The first half of 2021 has seen three new Architects join the S9 team — Anthea Perkas, Kanishk Meghani and Matthew Deutrom.
We sat down with them to discuss all things architecture, the journey from uni to registration to now.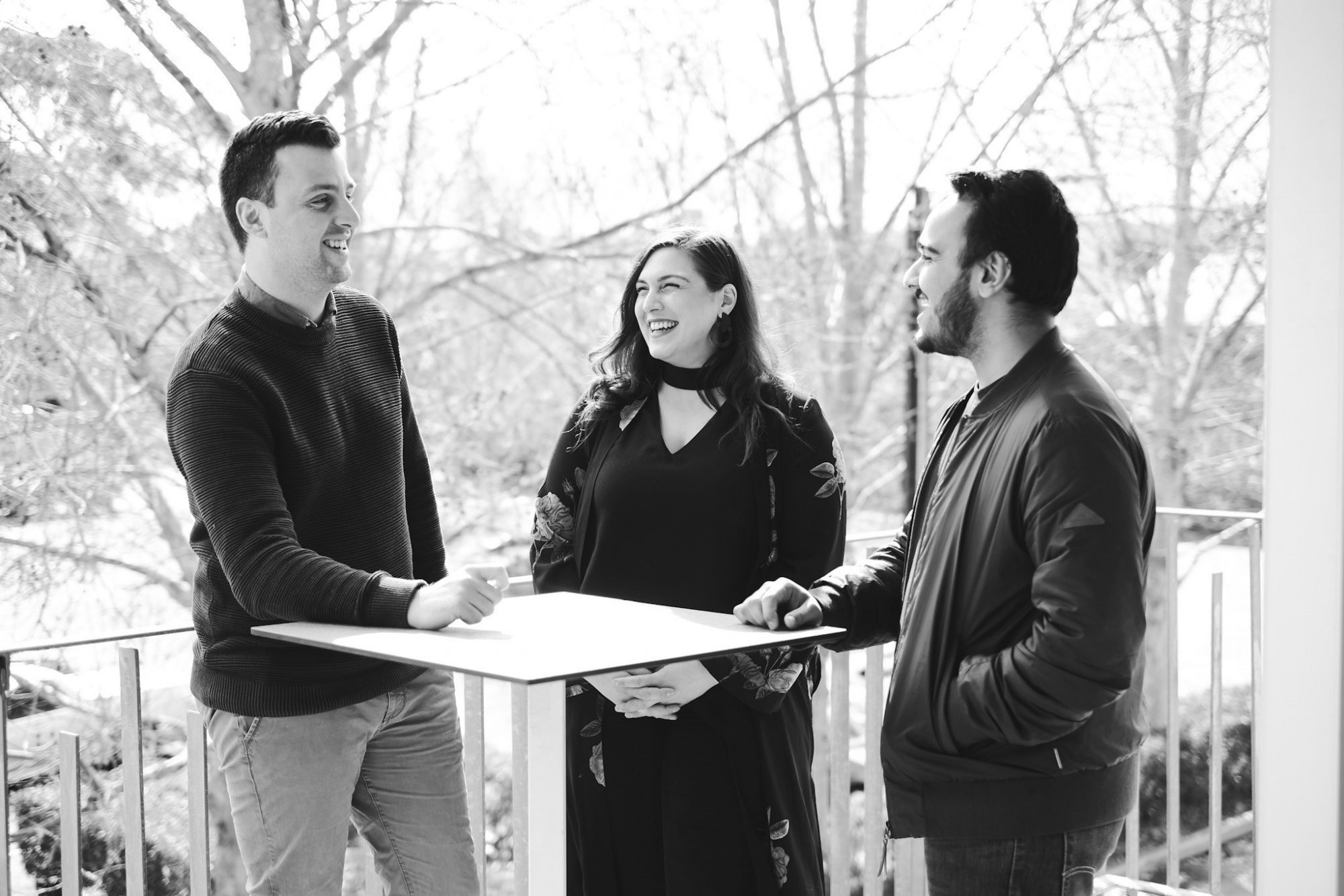 When did you realise you wanted to become an Architect?

Anthea — "I was 10 years old. I used to do these silly sketches of people's houses and come up with ways to make them look better."
Matthew — "During year 12. I was initially looking at applying for Civil and Structural Engineering, but I enjoyed creativity and problem solving. Architecture was a fine balance between the creative side and how things physically and functionally work."
Kanishk — "I was the same, it was during school. I liked a combination of drawings and physics."
Is is what you expected it to be?
Anthea — "Not at all, it's better! It's not pretty pictures and floating buildings's, architecture is about people management, the big picture and utilising all your knowledge."
Matthew — "People think Architects do the doodles then walk away. Really, we effectively have to learn a bit about everything — we are the conduit."
Anthea — " You don't learn that at uni!"
Matthew — "You need to have people skills. Architecture is about people. You need to be in it to want to make people happy."
Kanishk — "There is an expectation that you come out of uni knowing how to manage people. That first year is a learning curve, and definitely the hardest."
Tell us about some key milestones in your career to date.
Anthea — "Starting ArchiEd with the Australian Institute of Architecture. I was invited by a peer to come to the Institute and establish a task group that encourages an appreciation of architecture and the built environment in school students and the wider community. It really ties my two passions together — architecture and teaching. I have my day job and then I have this thing outside of that. Seeing kids excited about architecture makes me so grateful for what I do."
Matthew — "Short of Registration, it's been being able to meet a client for the first time and take them from the briefing stage, building a relationship and then delivering the final project. Working on heritage conservation projects has also been really interesting — understanding building techniques, the trades involved, the certain level of restrictions in place and what is required to really protect and restore a building of that age."
Kanishk — "Taking over one of the Department for Education Capital Works Projects as the Project Lead was a real learning experience. Also working on important Adelaide heritage conservation projects and being on site to see the project from drawings to realisation"
What does Registration mean to you?
Anthea — "To be able to call myself an Architect. When I could finally do that and say that I have achieved that, that was big. The title comes with another realm of responsibilities"
Matthew — "It's the job title you are aspiring to achieve. Without that, it feels unfinished. The title sets a new benchmark for you."
Kanishk — "For me it was realising that I was done with studying, hopefully forever. It was such a great feeling to sign off my first Architects Instruction!"
What do you love about being an Architect?
Anthea — "Architecture is for people. That's what we are doing, creating spaces for people. Sitting down with someone and asking what they are after and then making that come to life."
Matthew — "There's such a variety in the scope of works, it's so diverse. From cladding facades, heritage projects, new schools — it's an opportunity to think outside the square."
Kanishk — "The creative aspect. There aren't many jobs where you can flex both sides of your brain. There's somewhat of a natural progression — you see the idea in your mind, then on paper, to the physical end product. That's definitely the most satisfying element to the job."
Favourite projects?
Anthea — "Education projects are the best. The client is always so grateful."
Matthew — "The projects where the client is unsure of what they want and things aren't set in stone. They are willing to trust you in what you're doing, irrespective of what sector it is. Having that relationship and level of trust to work toward an outcome together is invaluable."
Kanishk — "I agree with Anthea — education projects. Working with lots of different end users and stakeholders is always a rewarding challenge."
What keeps you creative?
Anthea — "Networking events, product presentations and tours of new and innovative architecture are all really important to keep up to date with what's out there. I love learning how products can be applied in different ways. And ArchiEd of course! Designing workshops for students that inspires them to learn more about architecture, sparks creativity in me."
Matthew — "Not having all the answers or solutions drives me to learn new things. I'm always looking at growing my pool of knowledge to become better at my job. I want to know all the answers."
Kanishk — "Being aware of what's happening around me."
What are you looking forward to in your career?
Anthea — "I'm excited to diversify my portfolio and gain additional experience outside of education, across the health, workplace and hospitality sectors. It's great to be a champion in your field, but it's also great to learn new things. It strengthens your professional development."
Matthew — "There is so much more to learn, particular from my peers and the Directors."
Kanishk — "Working on a wider variety of projects, which is what S9 can offer"