We would like to officially introduce our newest additions to S9 - Interior Designer's Tal Nisenblat and Paiton Carslake and Graduate of Architecture, Zak Papas.
We sat down with them to chat about their experience working as designers since graduating.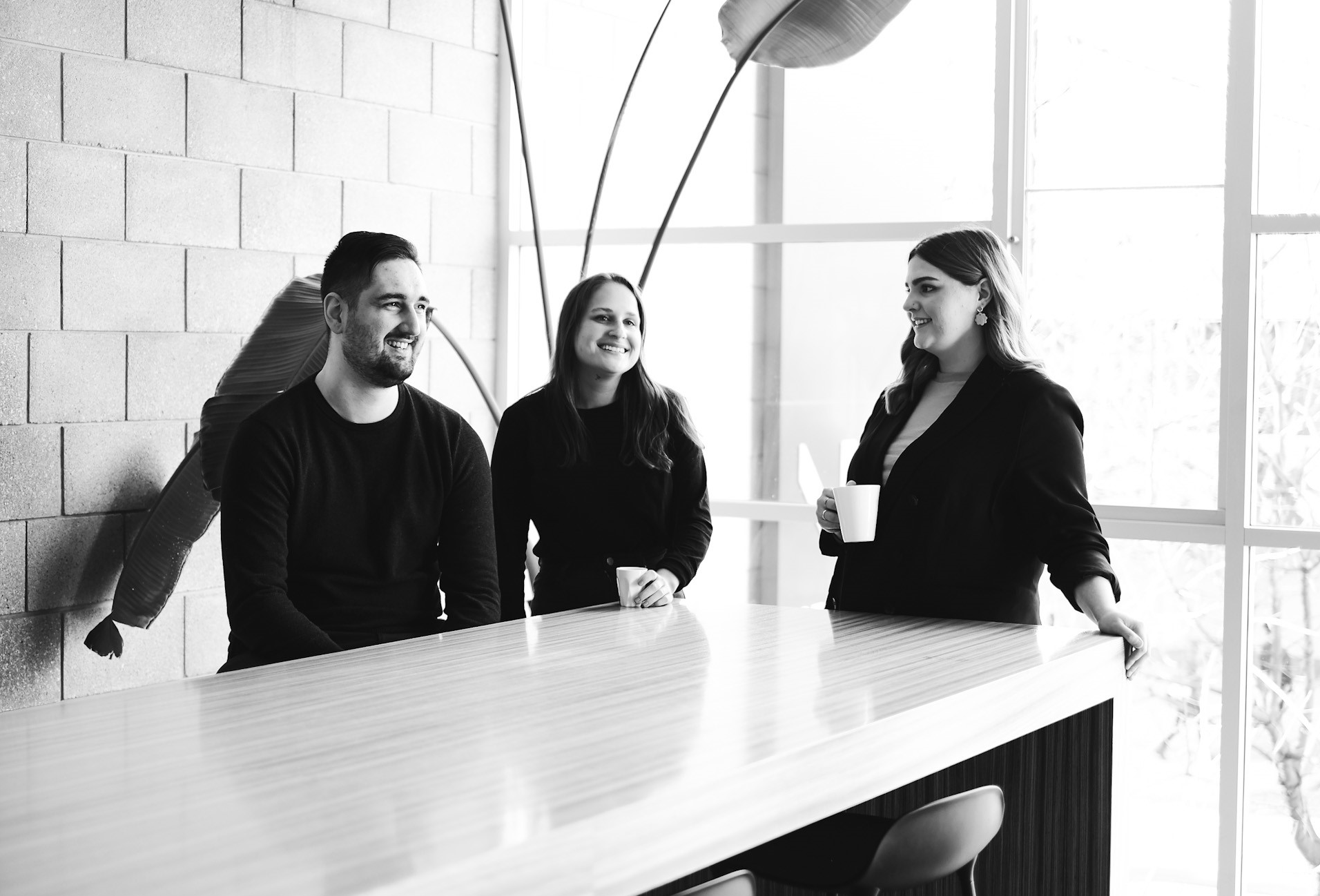 Always intrigued by design, Tal enrolled into Interior Architecture at UniSA while she was completing her Commerce degree, majoring in Marketing and Management. She loves how Interior Design allows her to explore her creative side and interest in people - by designing a space that has visual impact and has the potential to stimulate certain feelings and emotions in people.
Aspiring to join a studio with a broad project portfolio, Tal expressed her interest in working at S9 and after meeting with the directors, was offered a graduate role in May earlier this year. She has enjoyed working on the varying phases of multiple projects at once – from the joinery design and material selection of single residential projects to the documentation of hospitality projects like The Cove. She has also worked alongside Senior Interior Designer, Ida Khou on the material selection and documentation of The Chifley Hotel and Motel Refurbishment, a staged hospitality masterplan project.
Being at the early stages of her career, Tal is eager to draw knowledge from those around her. "S9 is this sort of place where you can become the best designer you can be - this is my time to soak it all up".
Paiton's career at S9 began as work experience through a University offered mentorship program, whilst she was completing her studies in Interior Architecture at UniSA – and she has been here ever since. Working as an Interior Designer means she can combine her love for design, sustainability and desire to positively contribute to the lives of those around her. "It's simple for me – I want to contribute in a meaningful way - to my colleagues, to the projects I am a part of, to the environment and to the wider design community. Through my love for layering, balance and colour, I hope to positively impact people's daily interactions, by focusing on the way people feel within the spaces I create".
Since joining S9, Paiton has worked closely with Associate and Interior Designer, Jaana Bithell and on a mix of projects. She has assisted with documentation for Villawood Display homes and worked on multiple workplace projects such as SA Power Networks, the Sketch Design through to Contract Administration for the Tic:Toc Adelaide office fit out and currently the Sketch Design for ElectraNet. She has also had the opportunity to work on the Sketch Design through to Documentation on Vault 91, a small café and wine bar located in Westpac House.
Reflecting on her time at S9 so far, Paiton says, "Whilst I initially felt nervous stepping into the industry after Uni – the amount I have learnt in such a short time here is incredible. I'm really excited to keep learning and make my mark as a designer."
Zak graduated from his Master of Architecture at Adelaide University in 2019. From a young age he was fascinated by design and construction, wanting to design something that gives purpose and adds value to people's lives. While at Uni, he sought out various work experience opportunities in small and large scale firms. It was here that he furthered his skills in Sketch Design and was involved in research and the early exploration for key projects across Adelaide.
Joining S9 in June, Zak was appointed to the team to help underpin the growth of our retail sector. He has been involved in the delivery of typology designs for a key retail client, where he is currently working on the Initial Sketch Design across 5 retail refurbishments. Looking forward to having the opportunity at S9 to touch as many parts of Architecture as he can, Zak adds, "I feel really lucky to be surrounded by so much combined experience and talent - each person here is a mentor and has something different that I can learn from. I'm really enjoying being part of a team that works collaboratively to achieve the best possible outcome for the client."
Each new starter agreed it has been an invaluable learning experience working across a diverse range of sectors in the varying phases of a projects life – which was one of the main attractions in joining S9.