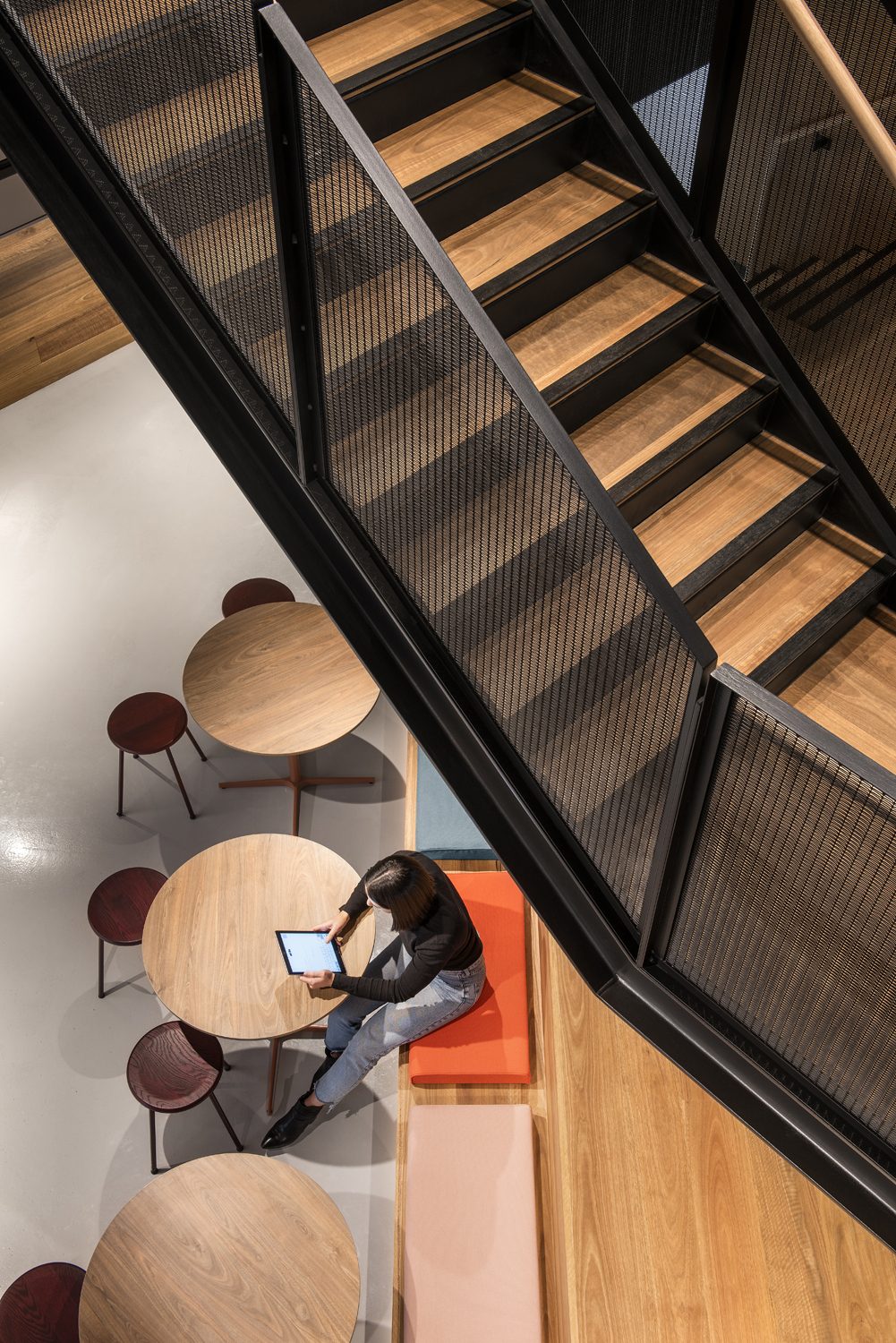 Seamlessly connecting across and between three floors, the workplace for up to 500 employees is built entirely on the working DNA of the global VFX company
Technicolor's The Mill (formerly Mill Film) is a theatrical and film production company, providing visual effects and colour for major studios and streaming services. With multiple studios across the world, the new Adelaide studio became the first in the Southern Hemisphere.
The highly considered studio has been created through the translation of the VFX process using two key design principles 'modelling and performance' and 'light, colour and texture'. Modelling and performance drove a strict planning structure responding to a clearly articulated workflow. The spatial response to the layout catered both to the client requirements of open vs closed spaces as well as working with the challenging octagonal floor plate of the building. Working, reviewing and socialising spaces were carefully placed to be seamlessly linked while always maintaining appropriate levels of separation.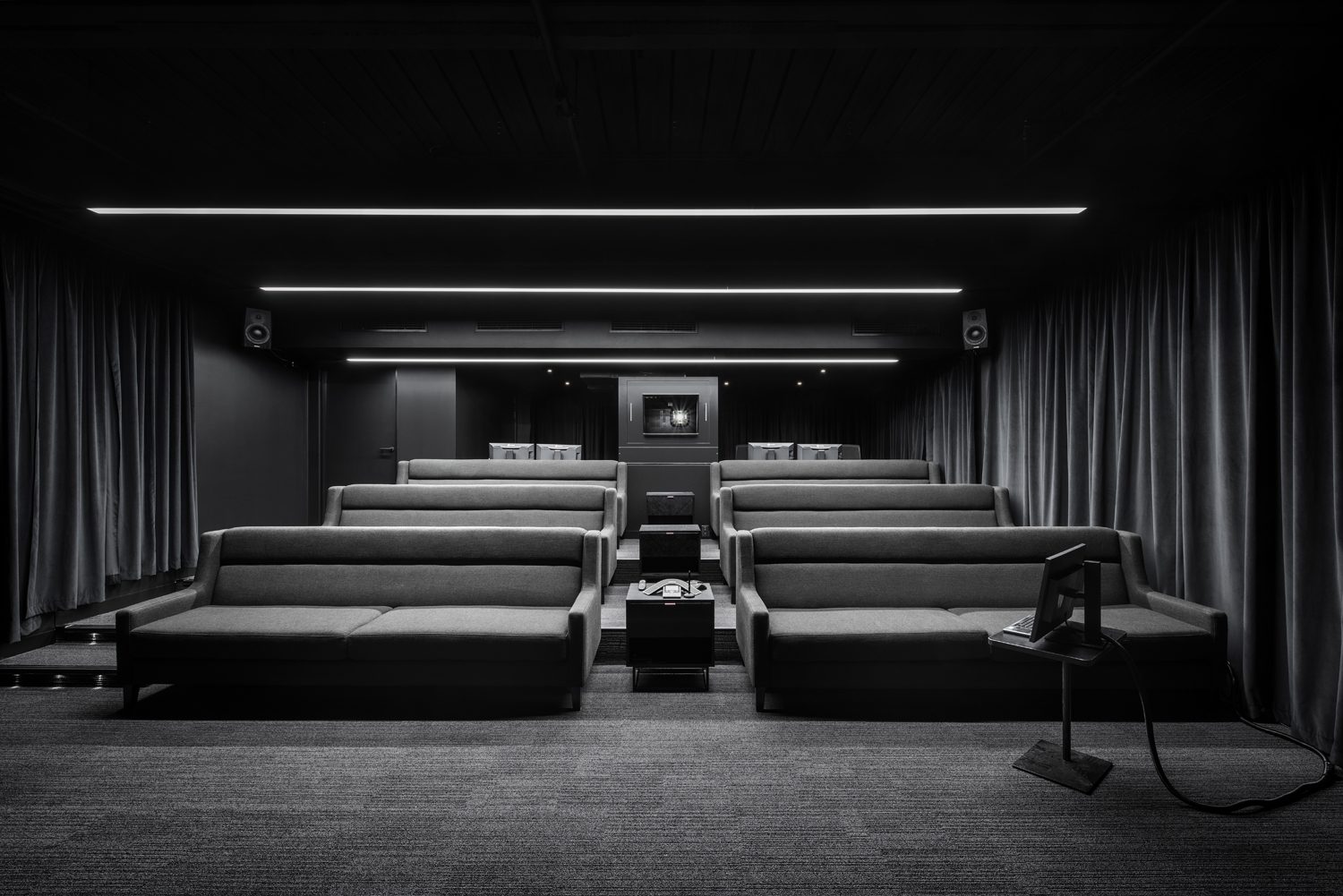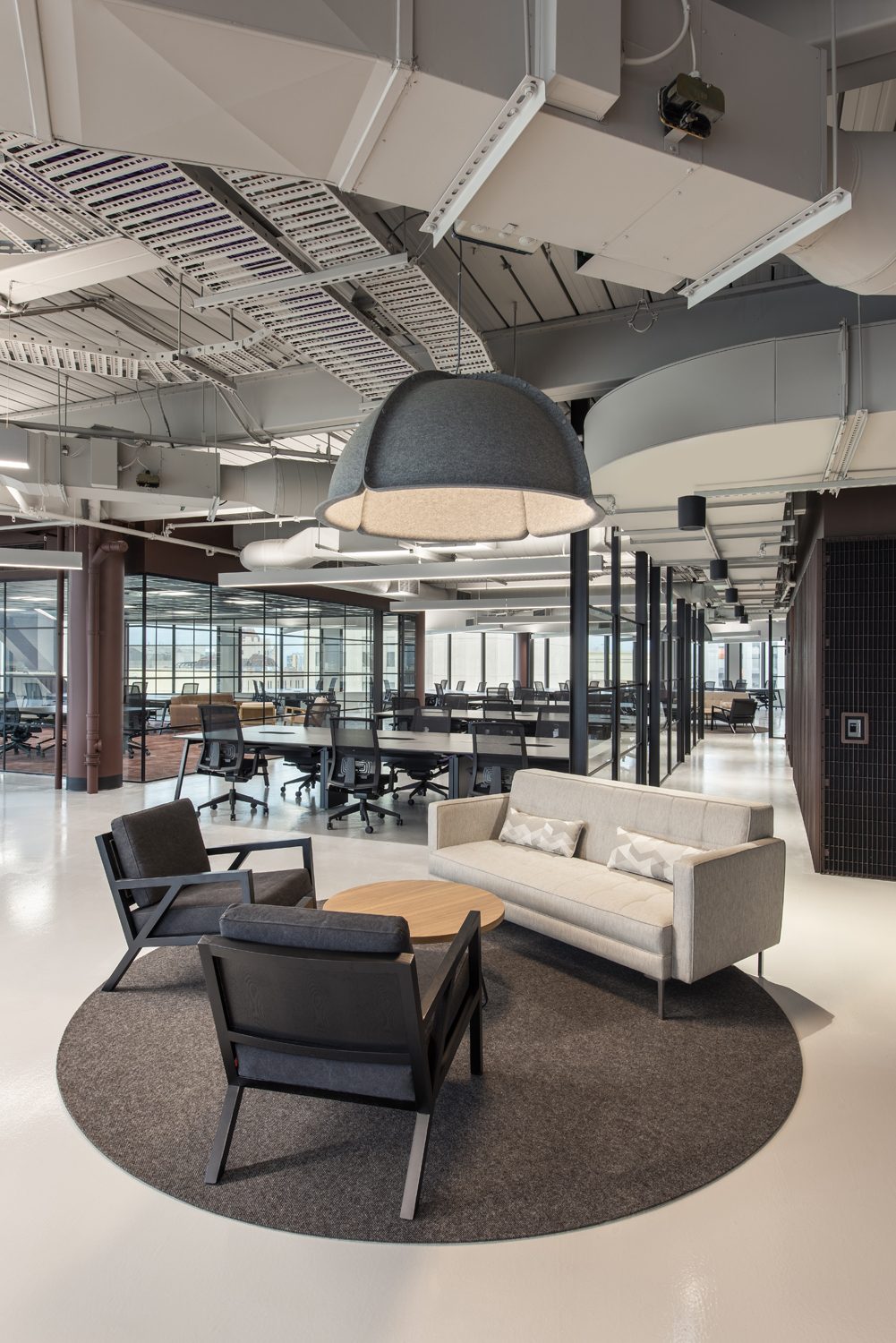 Light, colour and texture profiles were created for each space type, with a common thread of base materials tying them all together
Monochromatic artist areas work as a passive backdrop to on screen activities — with minimal distractions and visual interference critical within these areas.
The artist areas flow into warm and natural reviewing rooms where colour and material selections were key to providing spaces to review work on screen. Buffered from the artist spaces, the vibrant social spaces provide a colourful contrast to the work zones to socialise, relax and celebrate.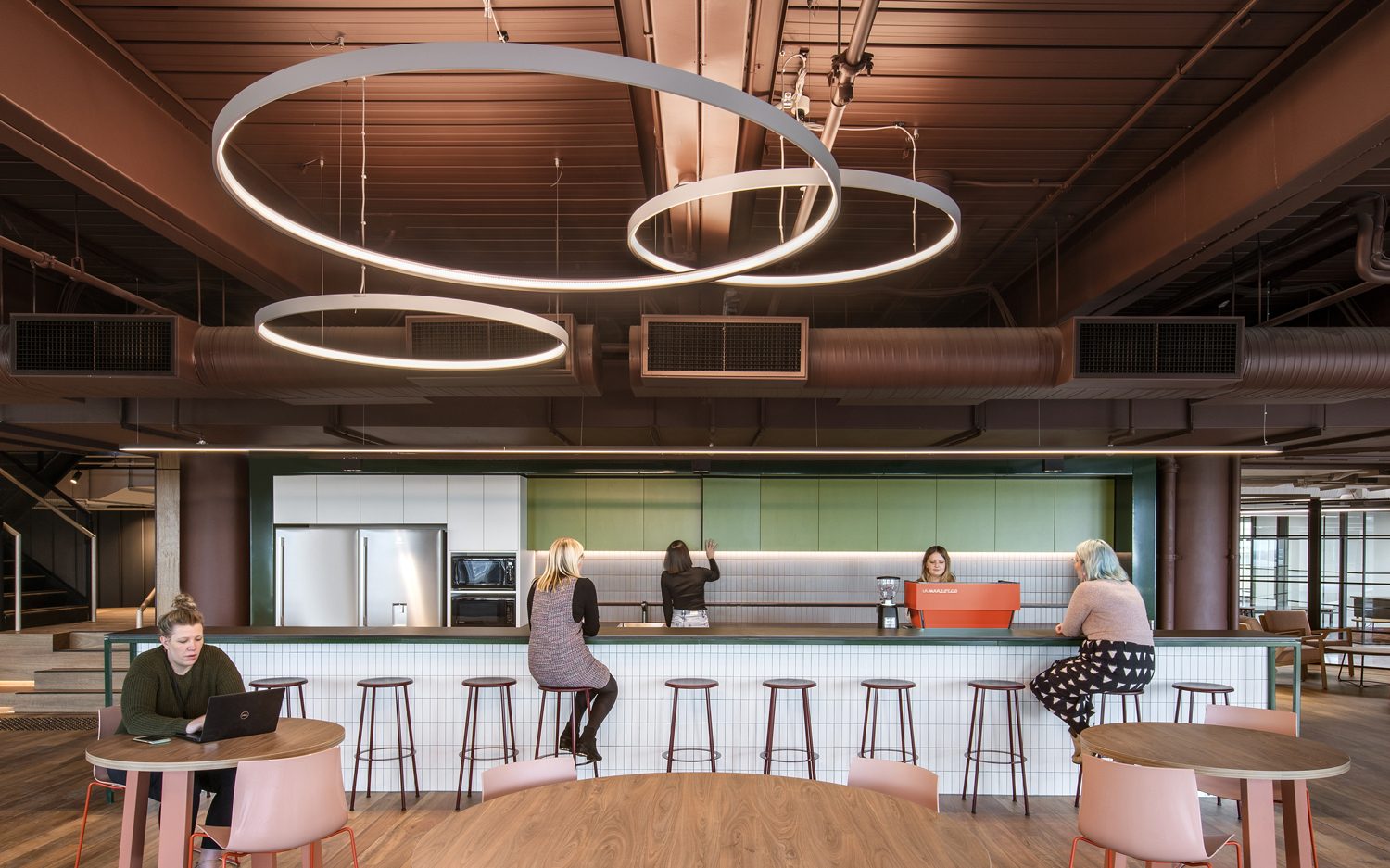 The industrial aesthetic was developed to maintain a consistency in built form within the global network of The Mill studios, while rich Australian timbers and a colour palette of rusts and deep reds introduced a local context. Building an edgy and industrial experience drove an outcome that celebrated the existing base building elements.
Exposed floor and ceiling slabs were simply painted to express the bare bones, while reducing materials and focusing on longevity were the main sustainability targets.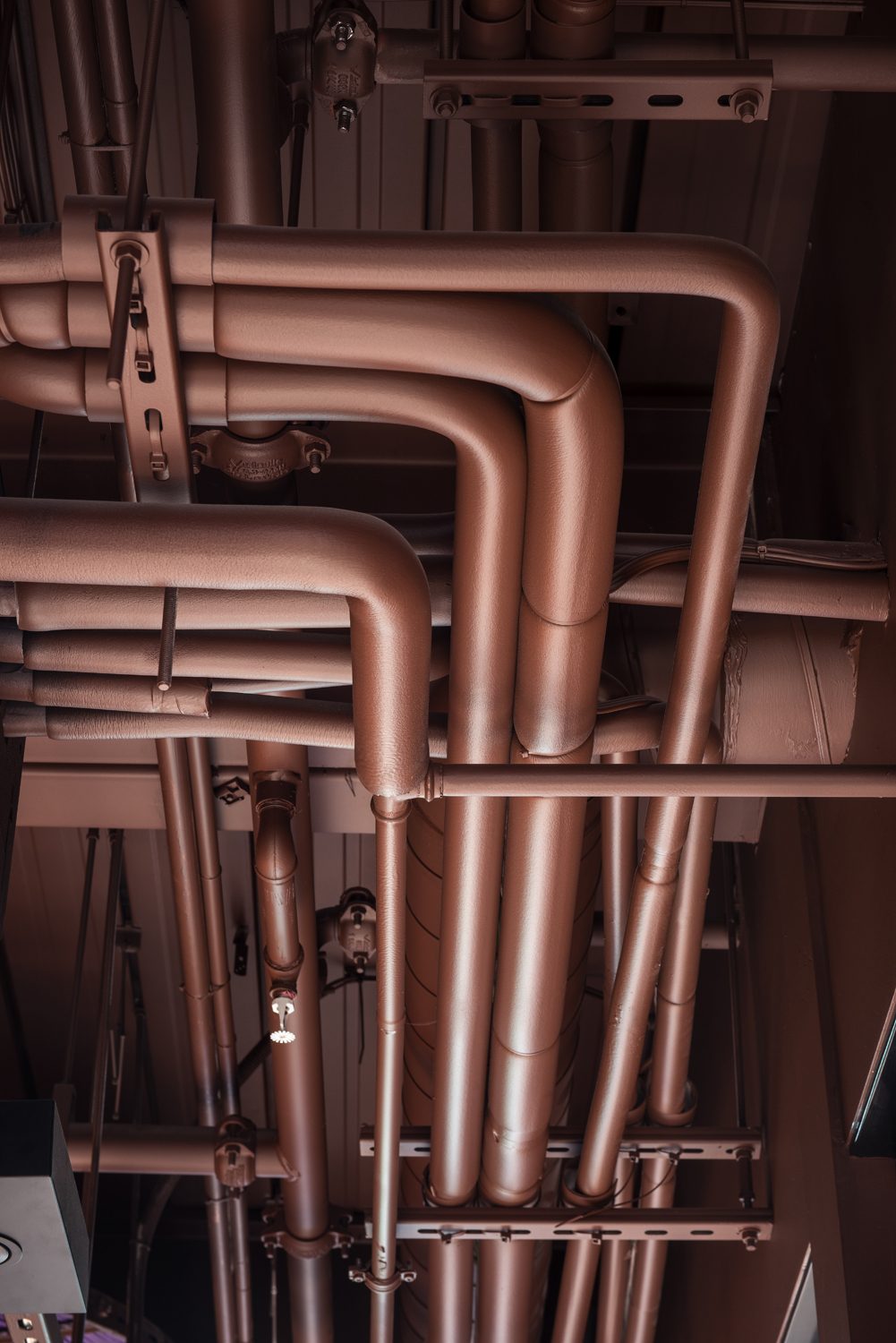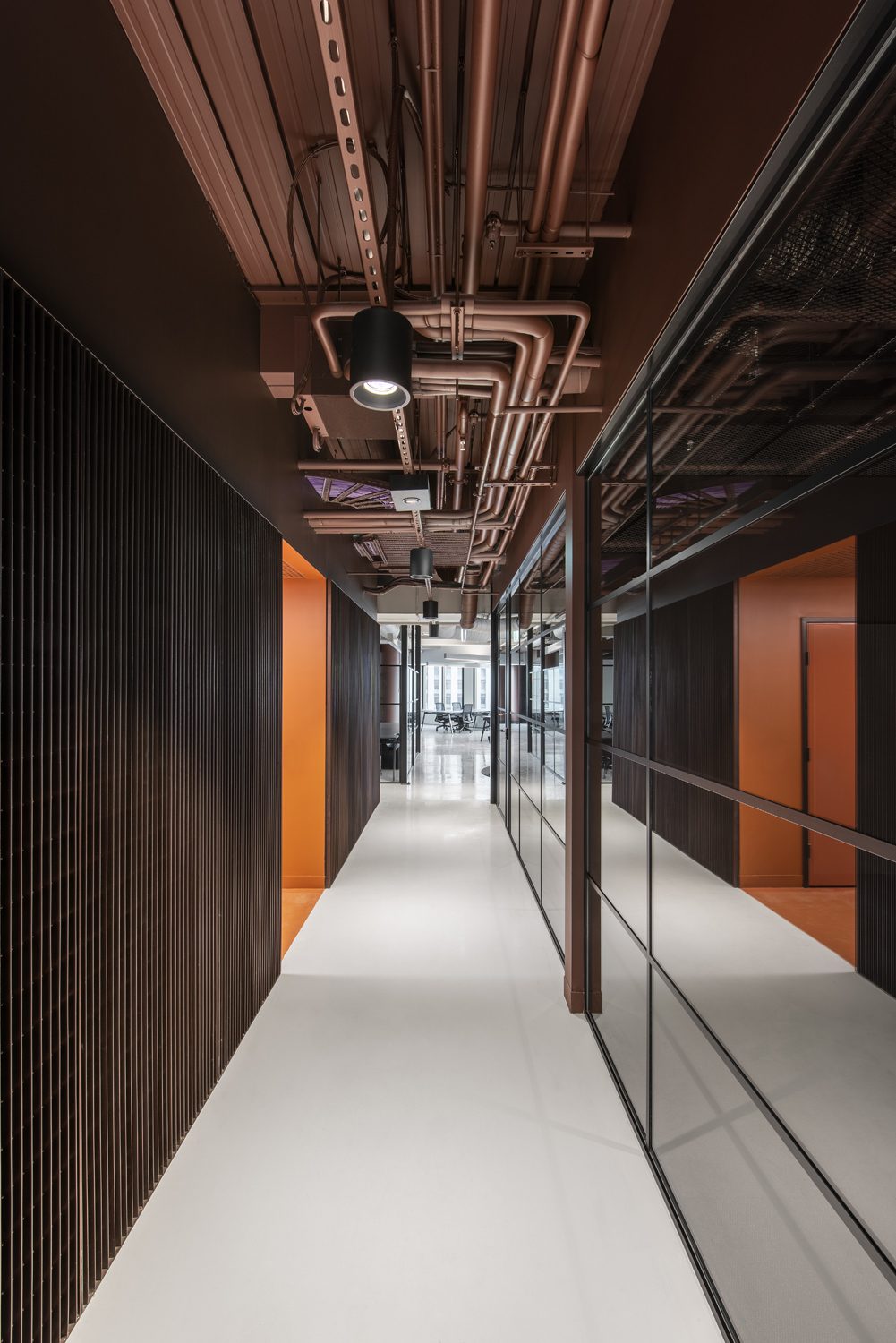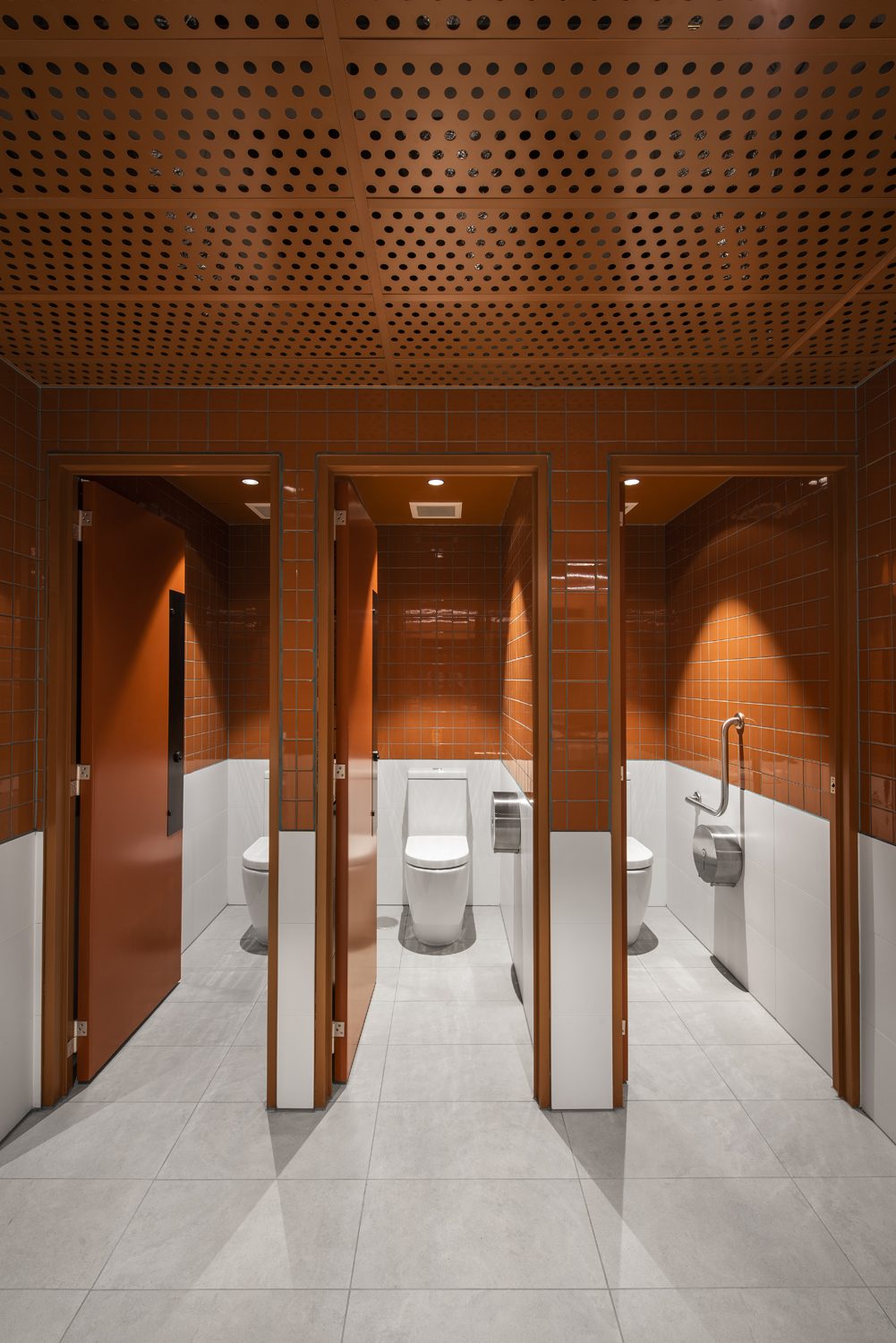 Three unique colour schemes were created for the amenities across the three studio floors
The colours are not only common to their respective floors but also to all gendered and non-gendered amenities — acknowledging, supporting and reinforcing The Mill's gender and diversity policies through the built form of their workplace.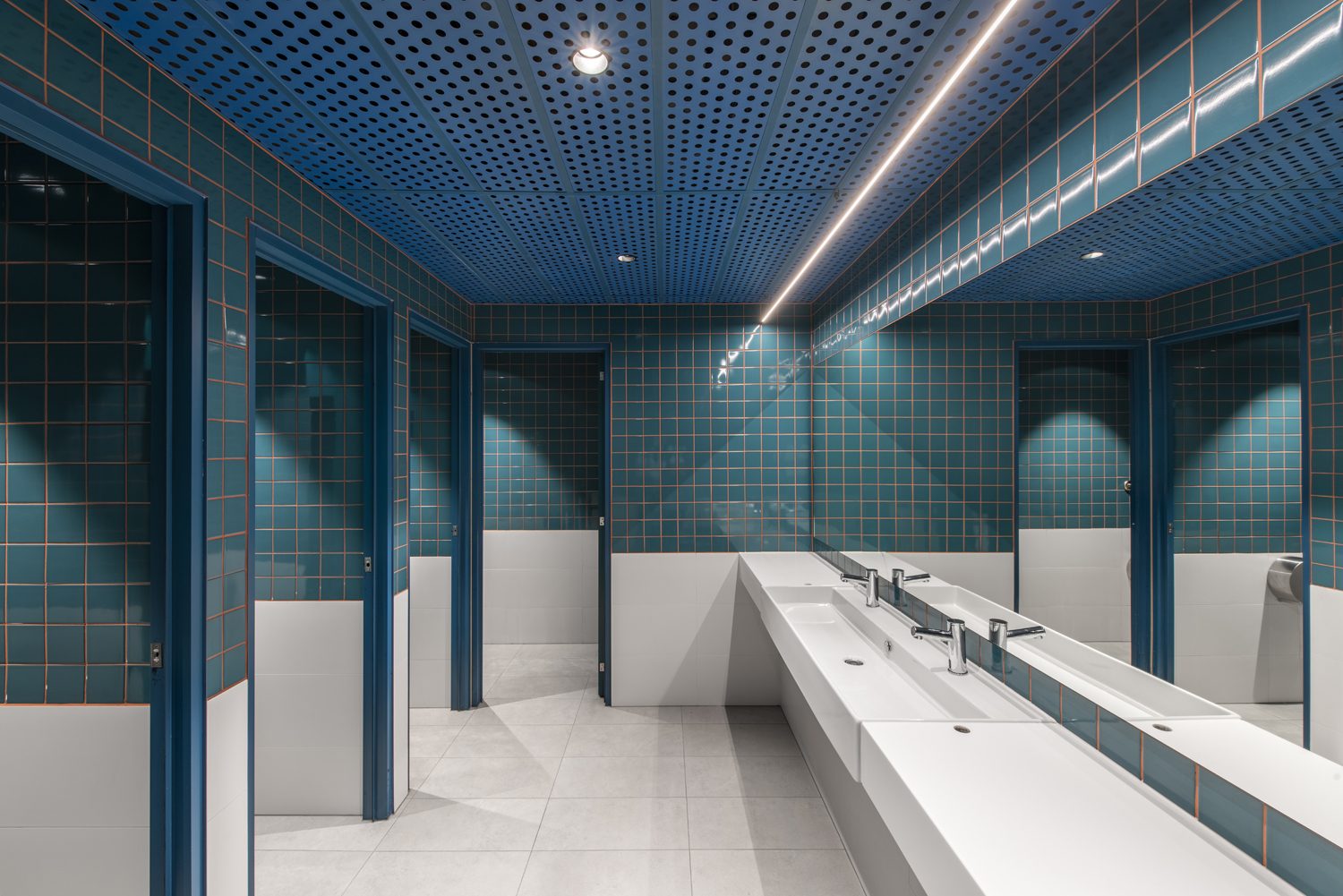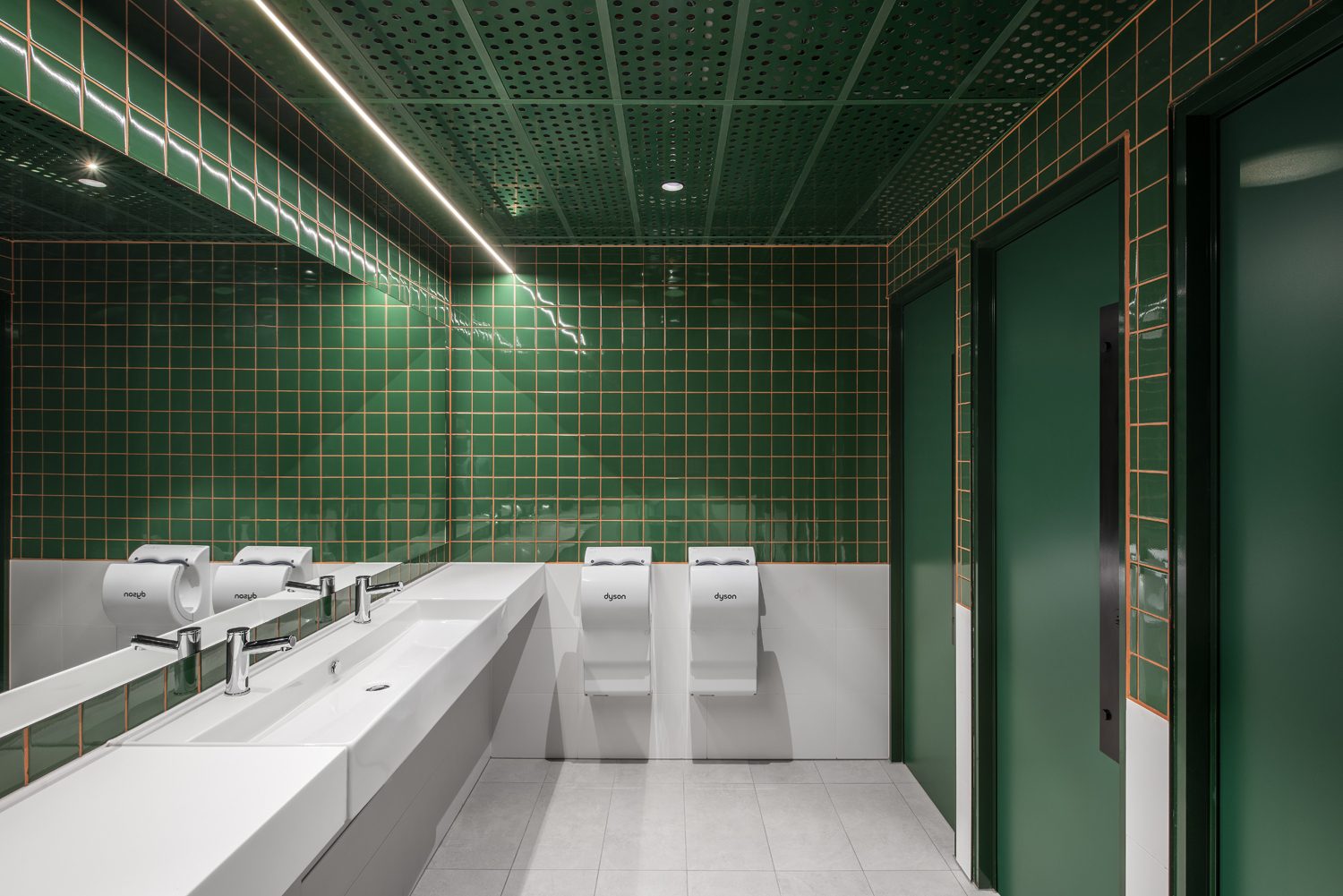 Design Institute of Australia Awards 2019
Outstanding Award from Major Sponsor (SA/​NT)
Design Institute of Australia Awards 2019
Gold Award for Commercial Design (SA/​NT)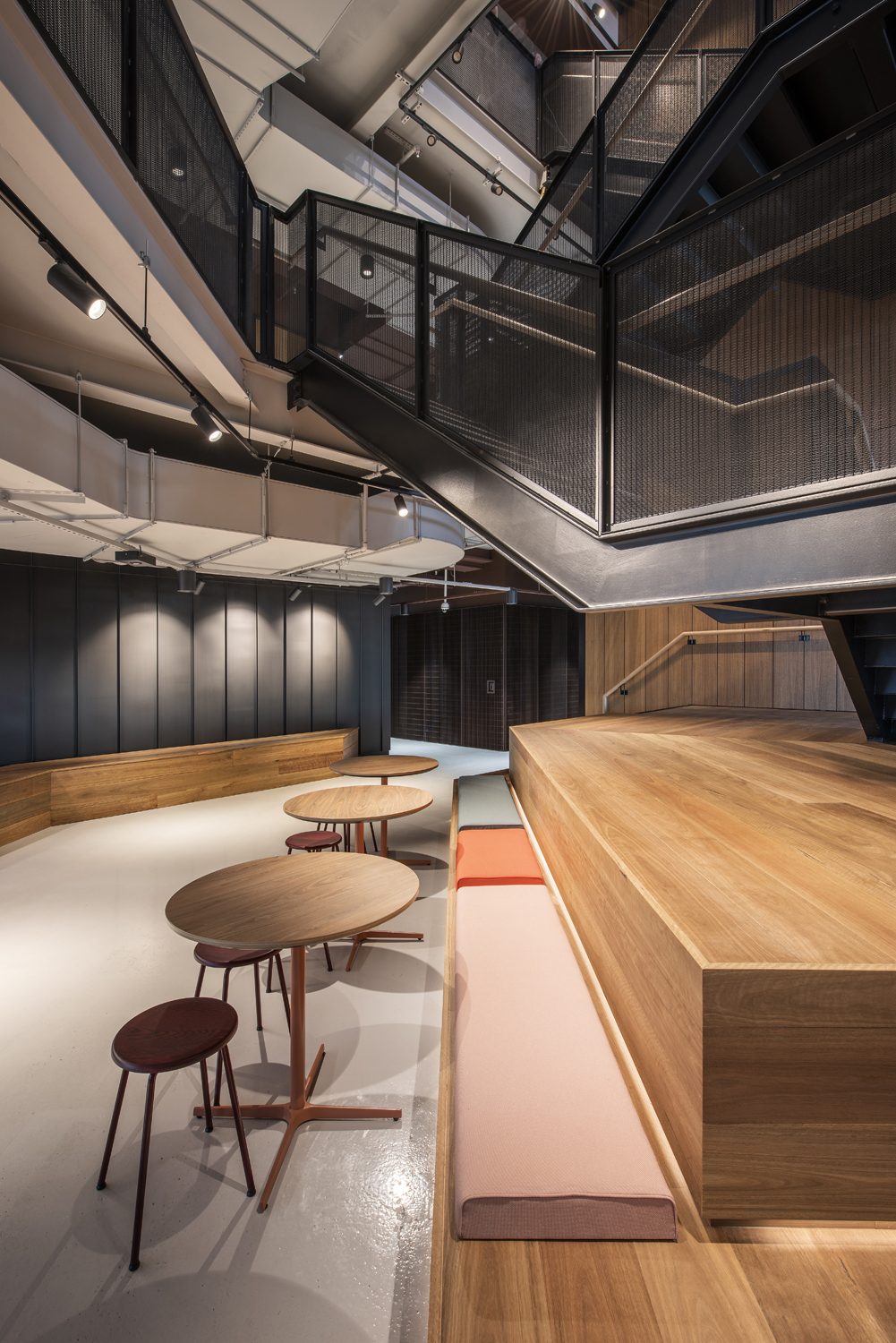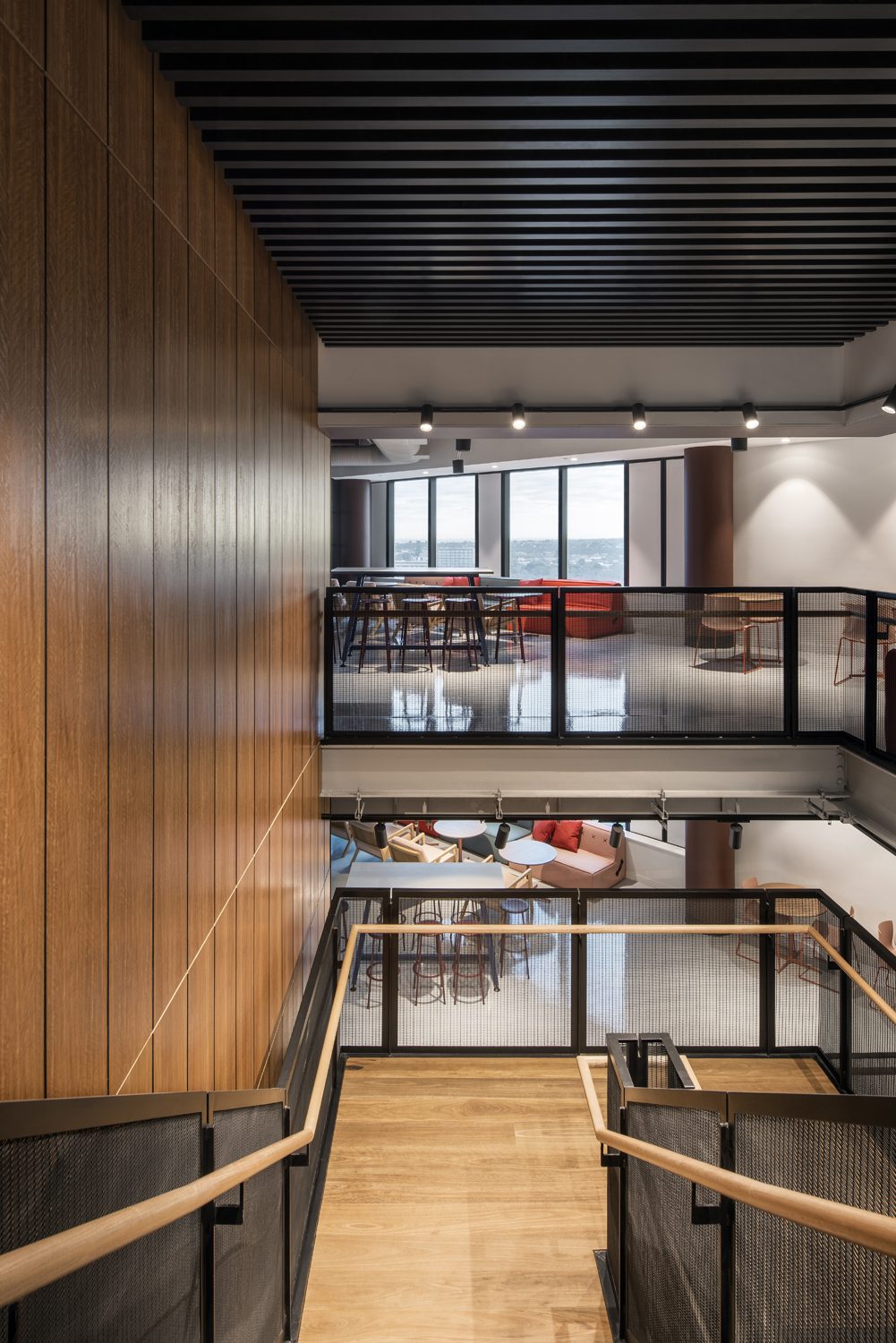 The project included extensive base building remodelling to meet the operational needs of the work force. Future proofing through a modular and systemised approach allows the team sizes to expand and contract depending on the pressures of their delivery timelines.
The introduction of the interconnecting stair and exposed services were a critical and complex piece of the puzzle, requiring a close and communicative design team to coordinate structure with services and architectural elements — catering to the functional design brief, as well as future proofing for potential growth in connecting to other levels. Multiple production and specialist teams are accommodated across three connected flexible floor plates linked via an internal stair and void.
Extensive audio visual equipment was also integrated into a variety of meeting and screening rooms to meet international standards across the organisation.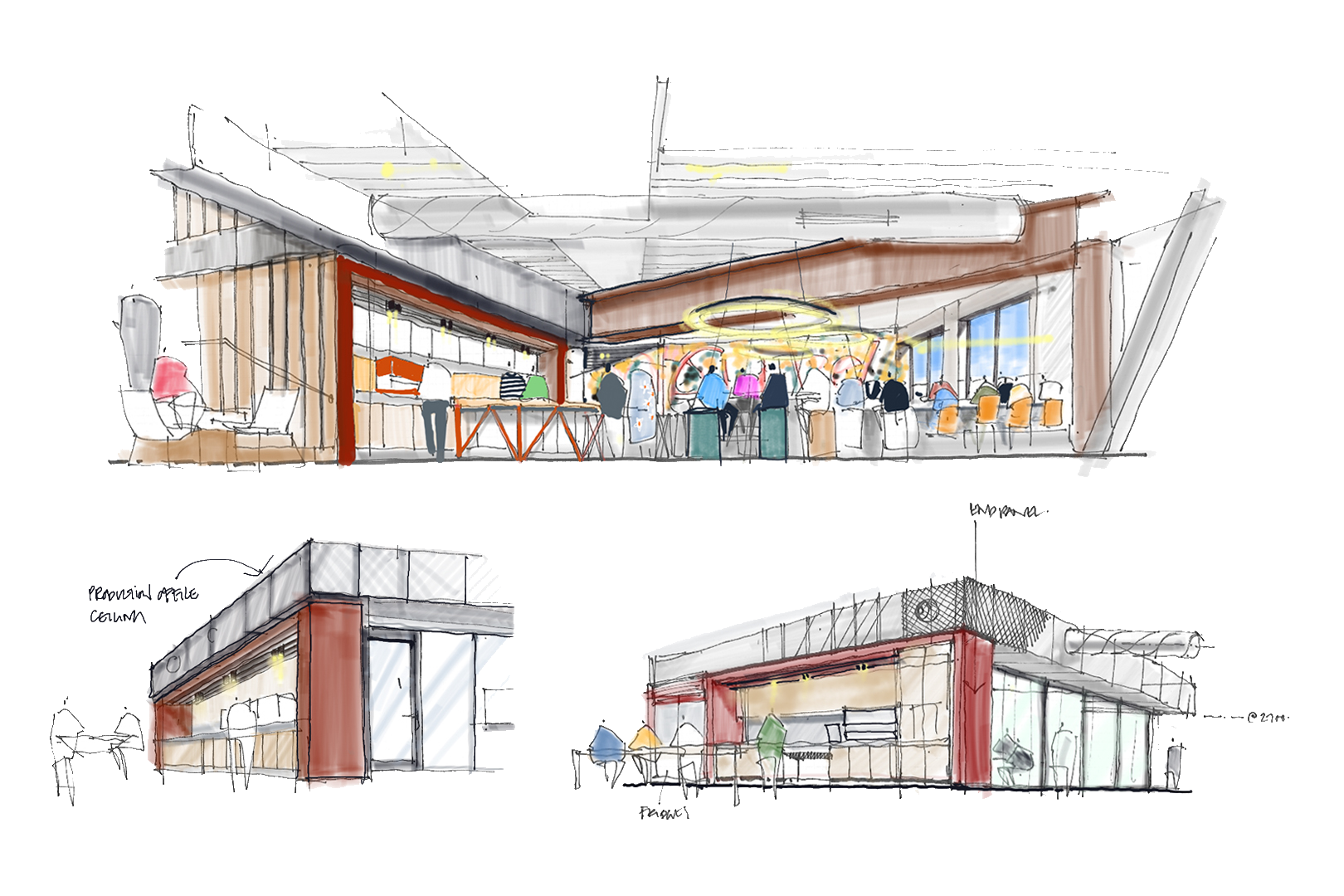 The design, development and delivery of The Mill's was a truly global project, including contributions from team members in Los Angeles, Singapore, Vancouver, Montreal, Hong Kong, Brisbane and Adelaide. Collaboration included regular virtual connections through the majority of the process with fly-in face to face sessions at critical points. A remote client required a regimented delivery plan with clear lines of communication. Weekly video conferences required reference material to be well planned, highly considered and clearly presented to the client based in Vancouver.
Having a client base who were extremely capable of understanding loose sketches, diagrams and design direction negated the need for 3D visualisation beyond hand sketches. This was an interesting twist when working for a business specialising in this realm. In a time where computer generated visuals are common place and expected it was refreshing for the team to turn innovation on its head using hand sketches to present ideas.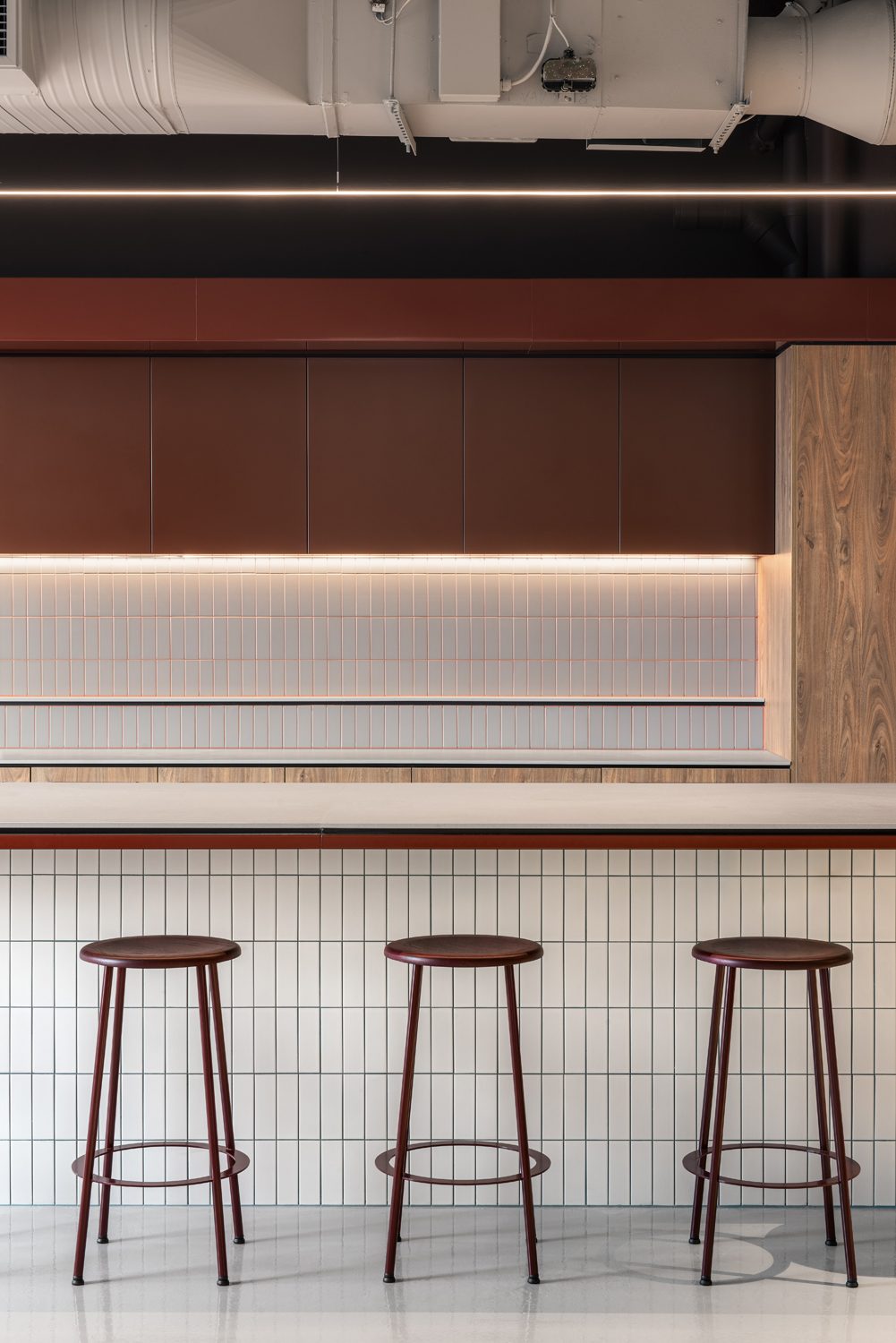 The project has injected a new lease of life into the previously under tenanted Myer Centre Building in the CBD and attracted national and international talent to Adelaide
"Our staff and clients are incredibly creative and spend a huge amount of time in the studio. It is very important that they feel inspired when they are at work. The Adelaide studio's design is very considered and in many ways restrained. S9 really listened to our requirements and worked to deliver a space that reflects the outside environment through the use of materials, colour and textures. As a business we create visual images for our clients and the interior design of or space provides us the perfect canvas to showcase our work to them."

Davie Johnston
VP Facilities Planning & Management, Production Services Technicolor