Breaking the cycle of homelessness by providing meaningful change through an innovative, sustainable and integrated housing solution, with a community focus
There is a current shortage of affordable housing for people experiencing homelessness in Australia
Forage Built is a social enterprise and partnership between S9 Director Andrew Steele, Forage Supply Co founders Scott Rogasch and Justin Westhoff, Zoe Steele of Otello and Tim Pearce of Frame Creative.
With the overarching vision 'smallest impact on the environment, biggest impact on the community', the group have come together to provide a new approach to breaking the cycle of homelessness, delivering the final pillar in the Forage Supply Co story — Eat, Drink, Plant, Wear and now Build.
The Calyx Project aims to combat the issue of homelessness, creating villages where people in need can find safe accommodation and a sense of community.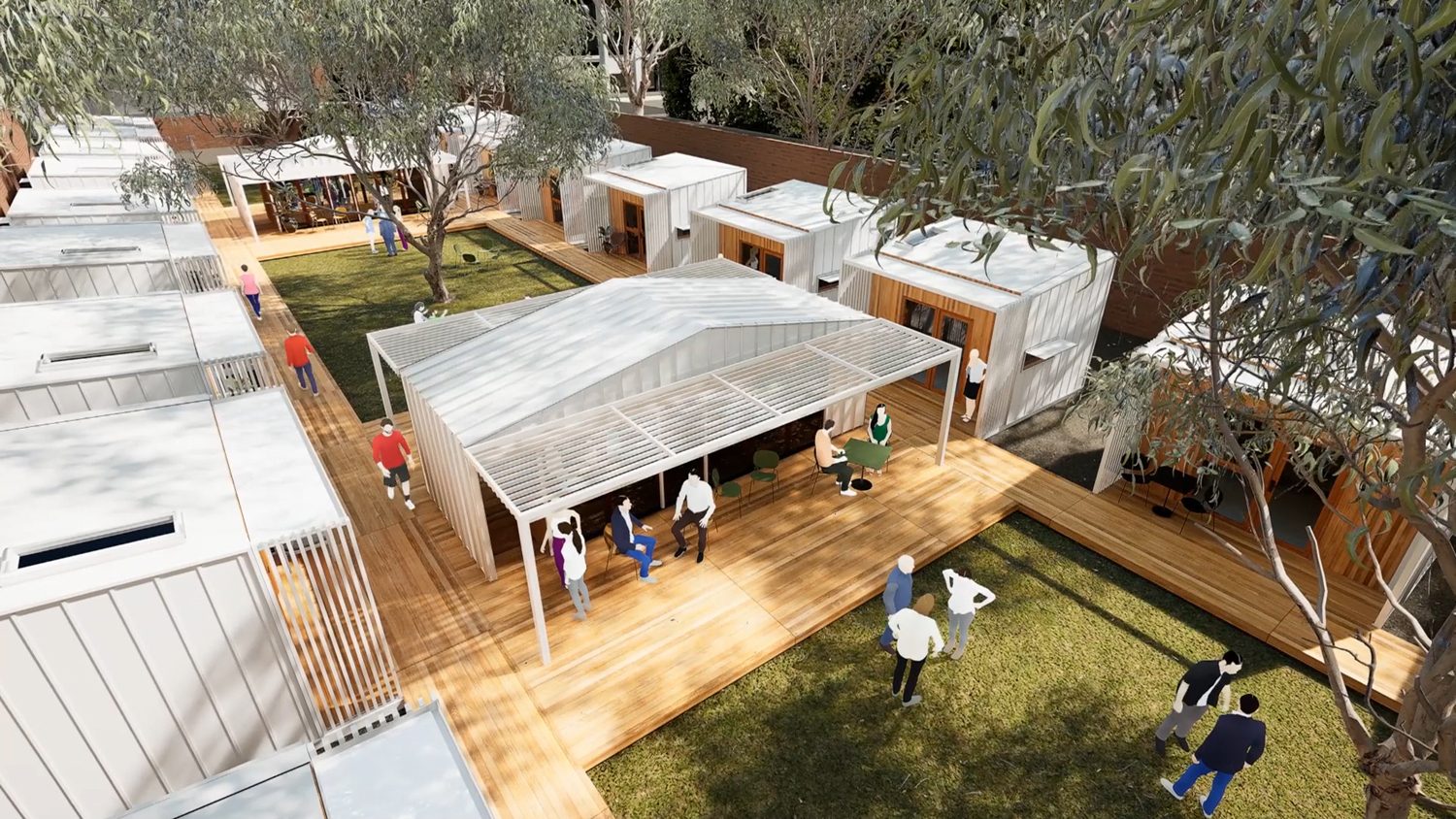 The solution begins with the design of the Calyx-16 — A 16sqm, safe, affordable, modular, transportable, energy efficient and eco-friendly dwelling
Unlike current solutions such as the temporary use of motels and share houses, the Calyx-16 concept stems from the idea of a protective layer around a flower bud, creating its own protective layer around the occupant to offer a personal haven to sleep safely and store belongings.
Designed by Andrew, each pod sleeps one, with an ensuite, small kitchen, porch area and ample storage space. The compact design is a dignified place to call home.
The considered design includes all-recycled materials that are cost effective, robust and high performing. Importantly, the construction of the pods will also be carbon neutral.

Intended to make an impact, specific consideration was given to the use of white externally — environmentally sound due to its high solar reflectance, standing out within an urban setting and symbolising new beginnings. The interior is unexpected, generous in space and approachable to successfully achieve the feeling of home.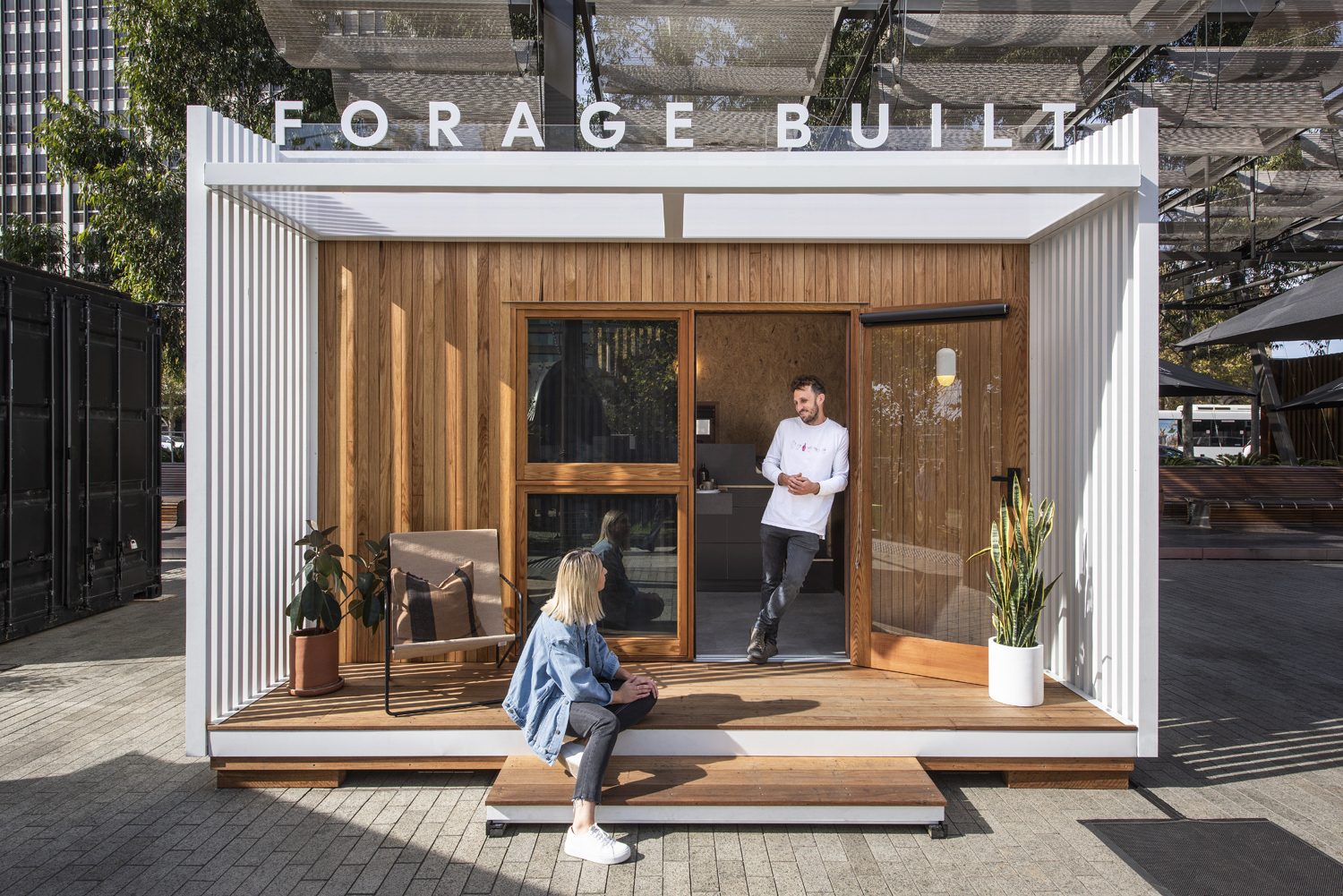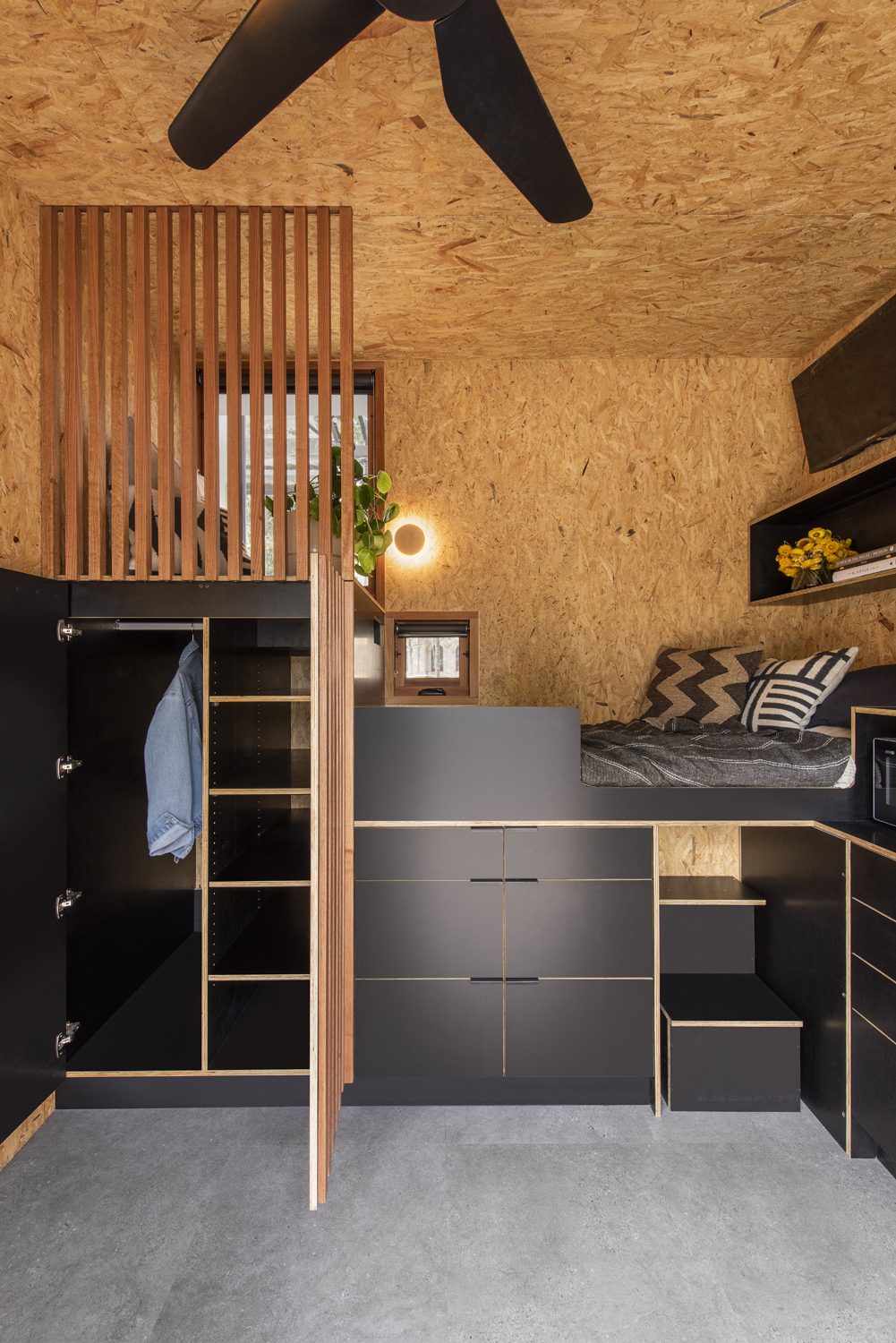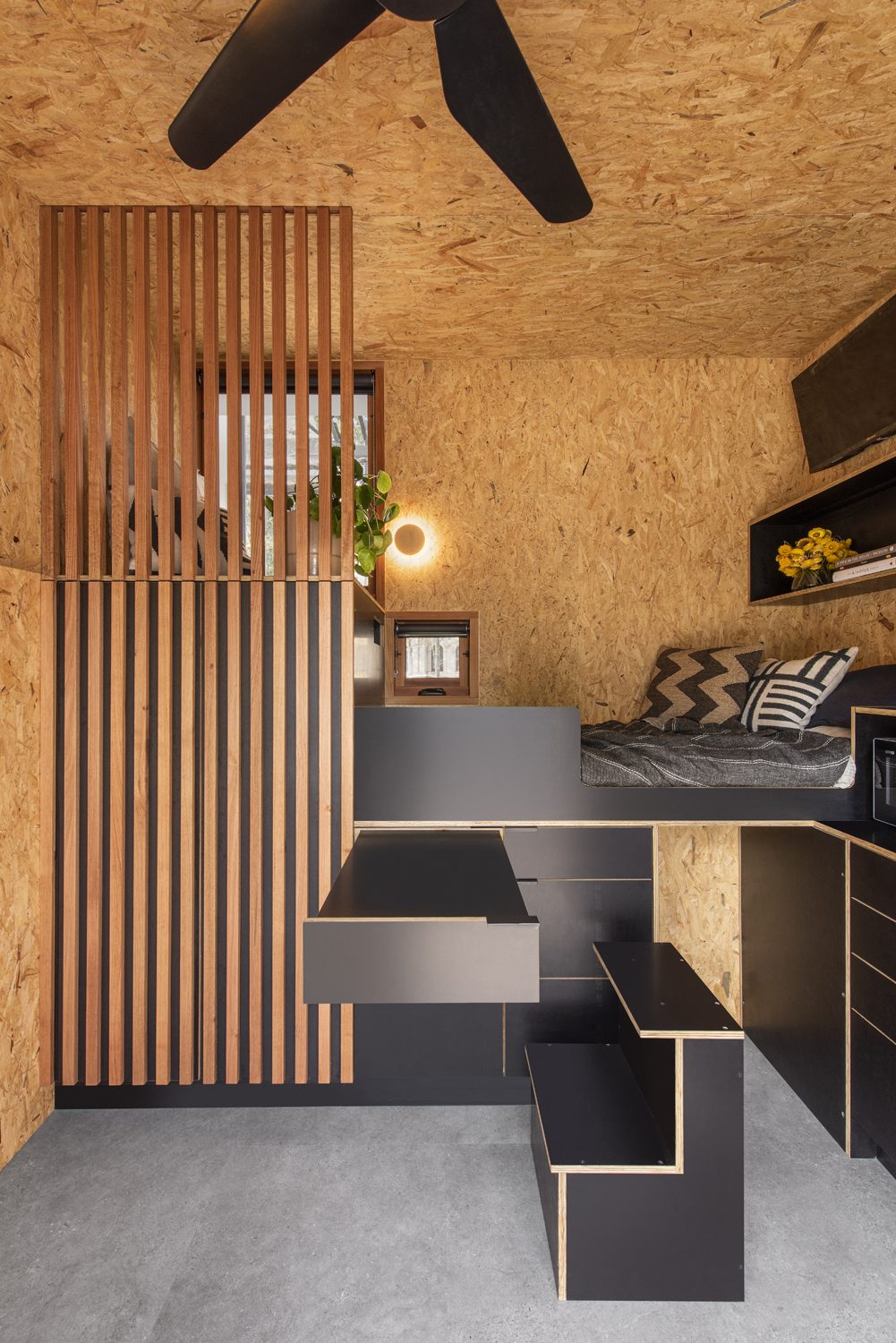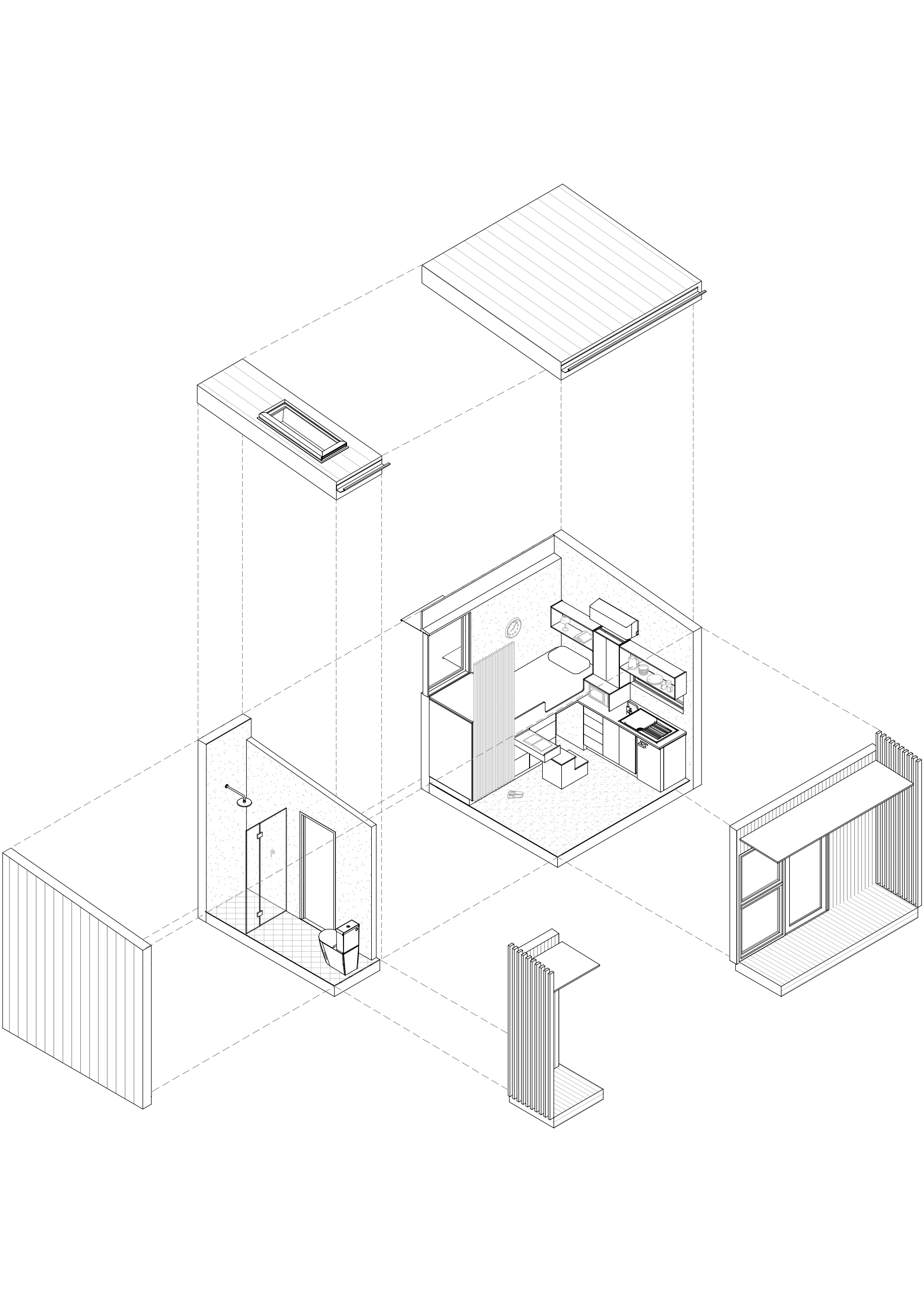 The Calyx-16 can be configured in multiple ways — its modular design allows for optional wet areas or additional sleeping quarters and living space for a small family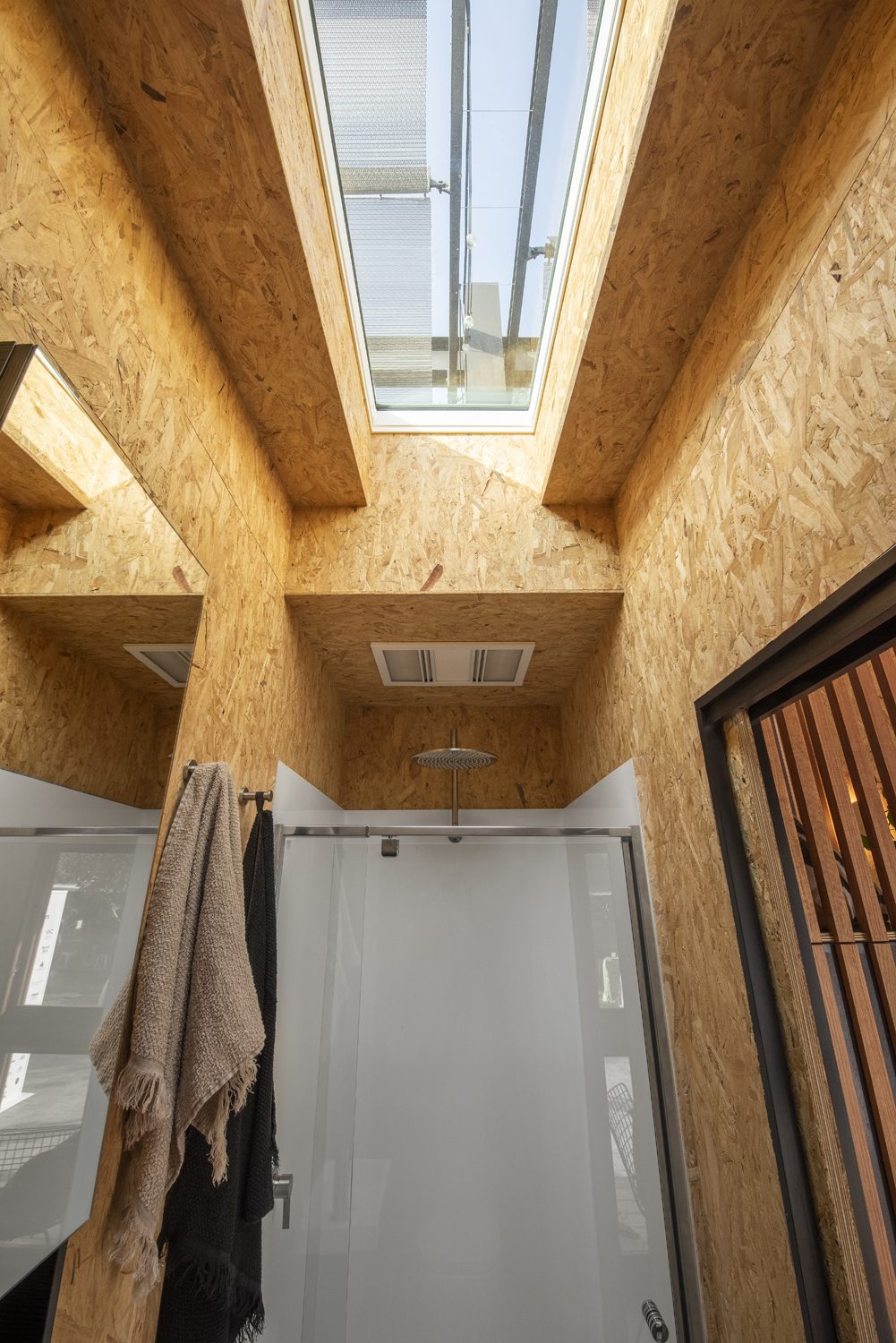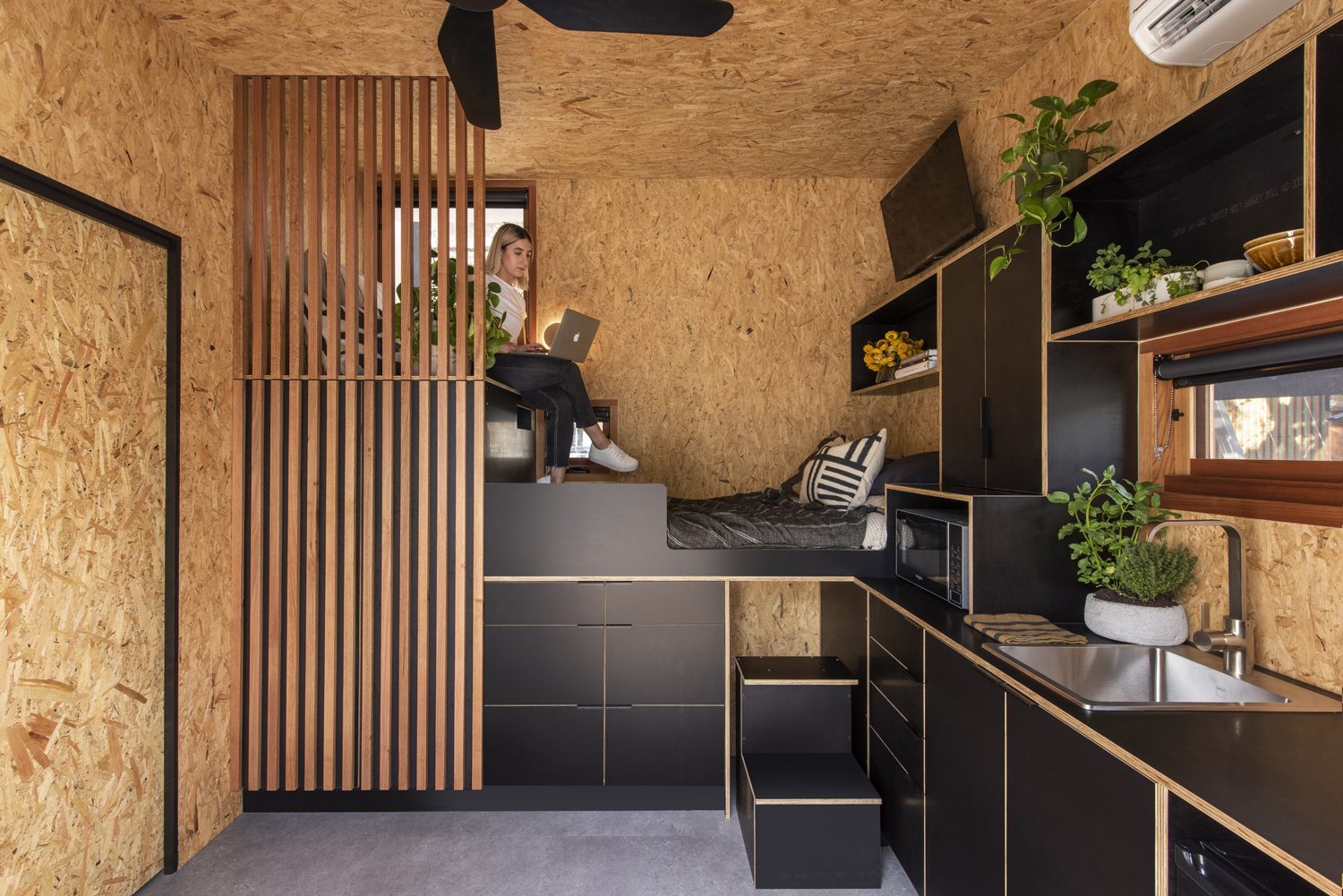 Good Design Awards for Excellence in Design and Innovation 2023
Award Winner
Property Council of Australia Innovation & Excellence Awards 2022
Project Innovation Finalist
Australian Institute of Architecture SA Chapter Awards 2022
Commendation for Small Project Architecture
Design Institute of Australia Designers Australia Awards 2022
Award of Merit (Place Category)
The Calyx homes are not designed to exist in isolation — the solution is focused on community with the homes to be built in a larger village
To successfully pilot the first village and succeed in the overarching vision, five ingredients are required: a socially conscious developer or landowner, capital partner (financier), placement by an agency (homelessness services provider), management by a non-for-profit (housing provider) and employment opportunities by a social enterprise (Forage Supply Co).
Early collaboration with Council is also required to understand how social impact will be managed. CBD sites such as dormant car parks or vacant lots awaiting development are key examples of underused land where a village could be established on a medium-term basis,
then utilising the pods modular design, relocated to the next available block of land when required. Safety, trust and care are integrated into the overall development principles with clear pathways to a sustainable lifestyle for residents.
A village will include more than four pods, with the agency placing people into homes in complementary cohorts to manage social risks. A designated pod for a case worker to reside onsite and provide 24-hour support will be located within the village for every 4-5 residents and managed by the non-for-profit.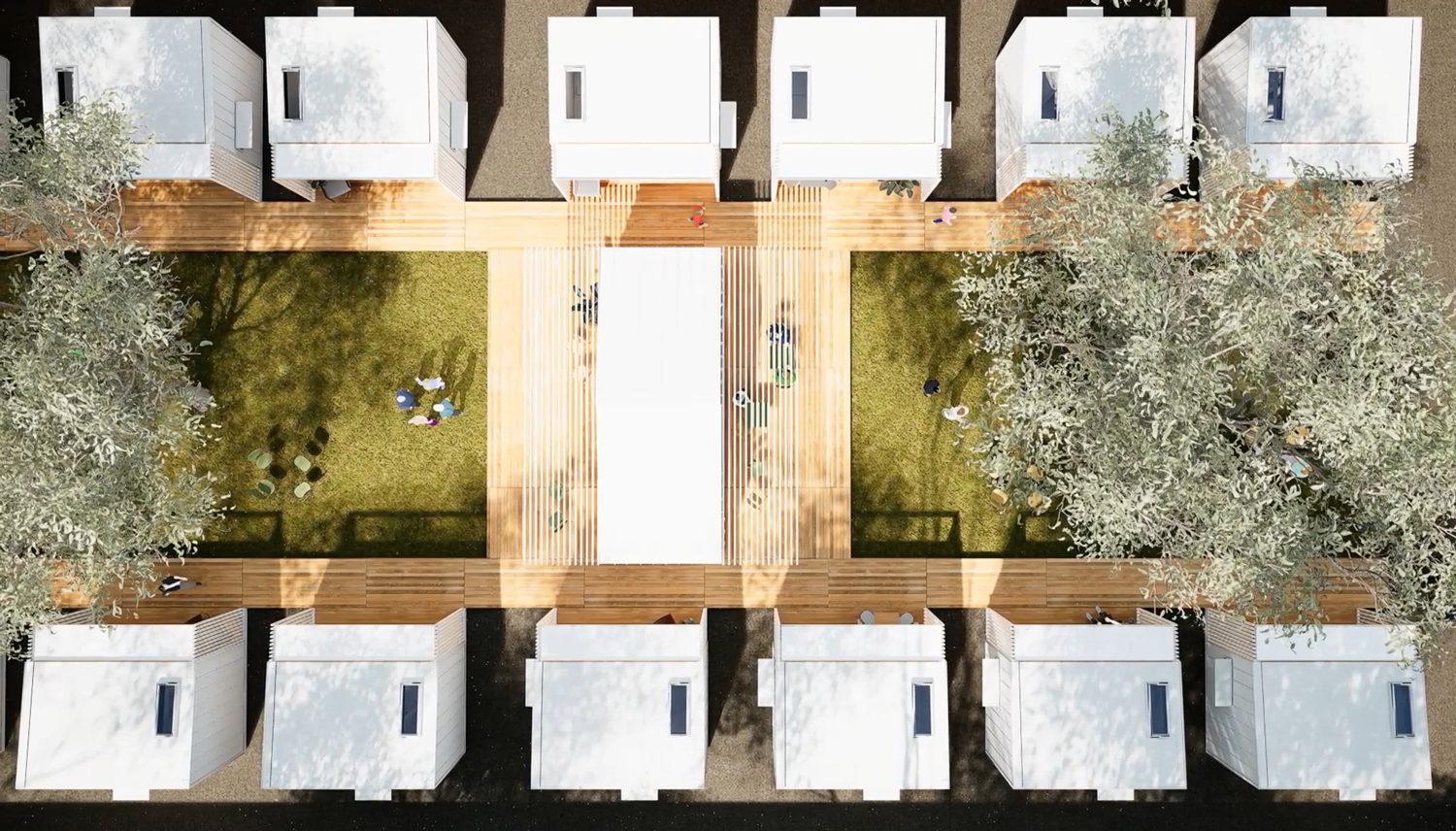 This will allow residents to safely connect to form community, access services, learn new skills and transition back into permanent housing and the workforce through employment or placement opportunities with an aligned company. The goal is to help people sustain long-term housing moving forward and with this skill development, decrease the cycle of repeat homelessness.
The team undertook an extensive consultation and survey process, speaking to the intended end-users, to decode the brief and truly understand how they would best use the space and interact within the village. Consultation with Hutt Street Centre helped to understand the operational model, case management scenarios and the hand-selection of cohorts.

A larger communal pod will also be located within the centre of the site, housing a kitchen, laundry area and space for events and skill-based workshops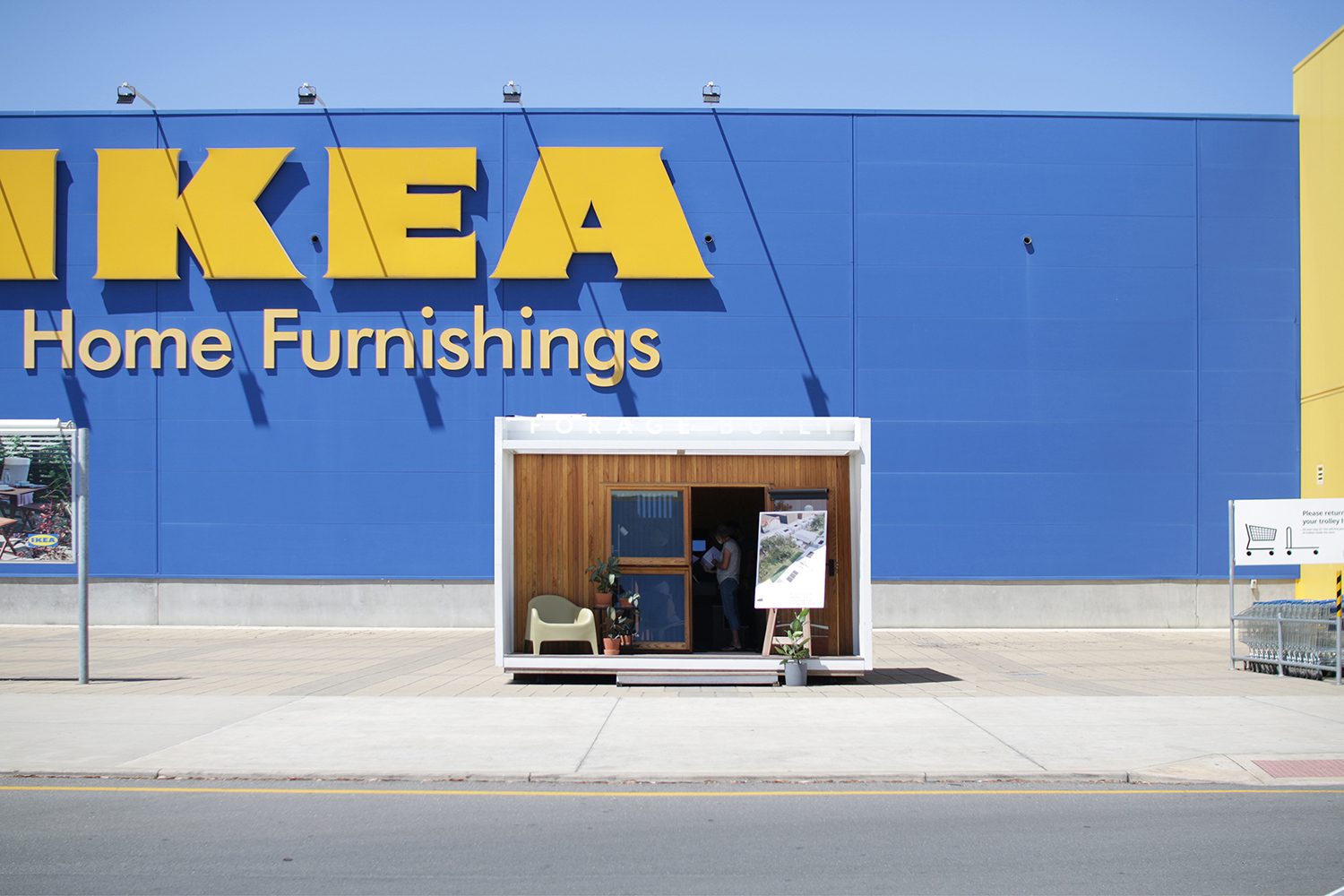 Utilising S9 and Forage Built's network, in-kind donations, financial contributions and strategic partnerships have been crucial — resulting in the construction of the prototype pod
The tangible built form has led to ongoing fundraising and awareness campaigns — a series of different vehicles enabling the community, individuals and businesses to become involved.
Through community partnerships the prototype pod has been displayed at Tasting Australia, Fringe Festival, Rundle Mall and IKEA. The campaign with IKEA has led to an ongoing collaboration, whereby a bespoke and recyclable joinery solution will be produced for future pods — decreasing the construction cost and further supporting the enterprises sustainability goals.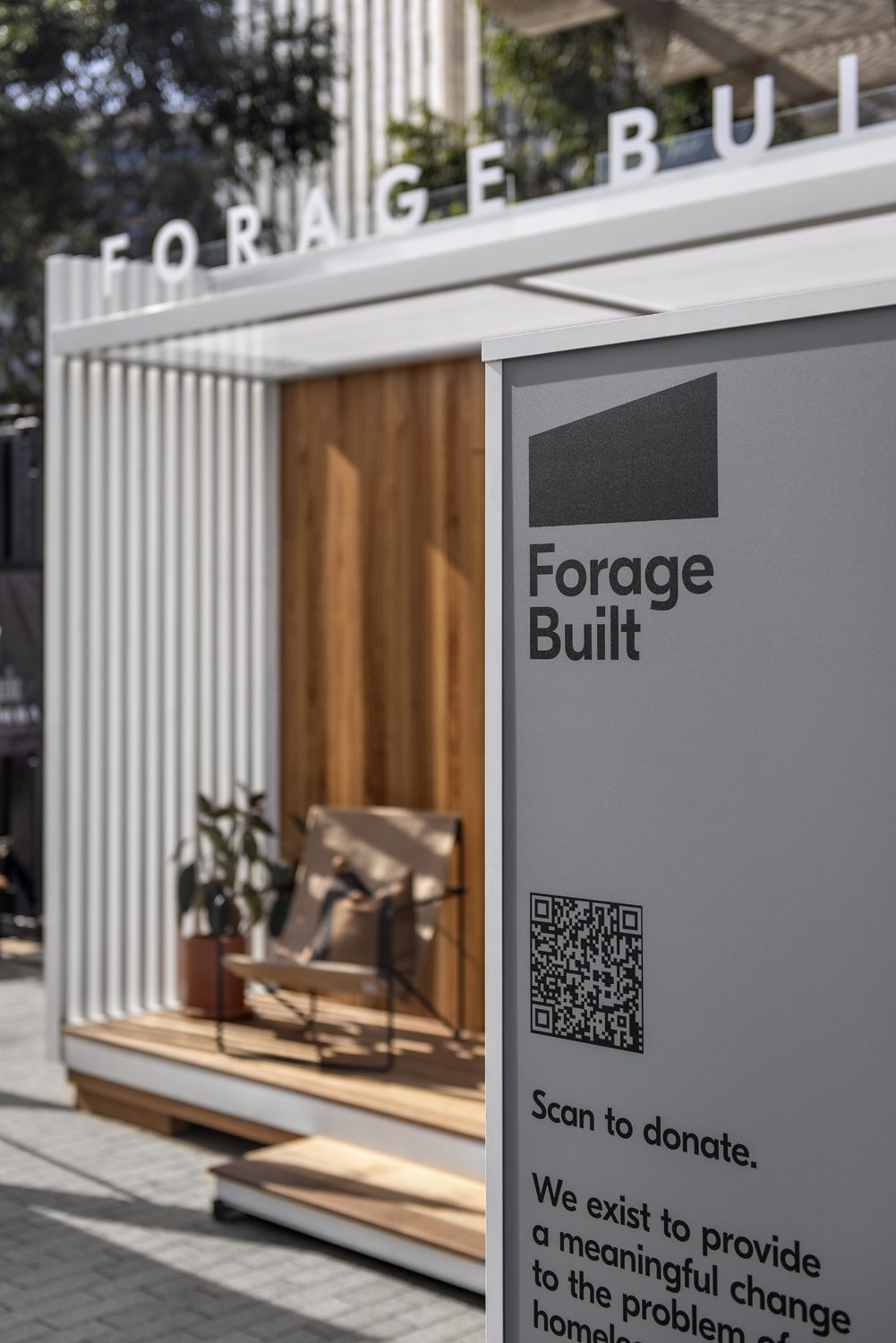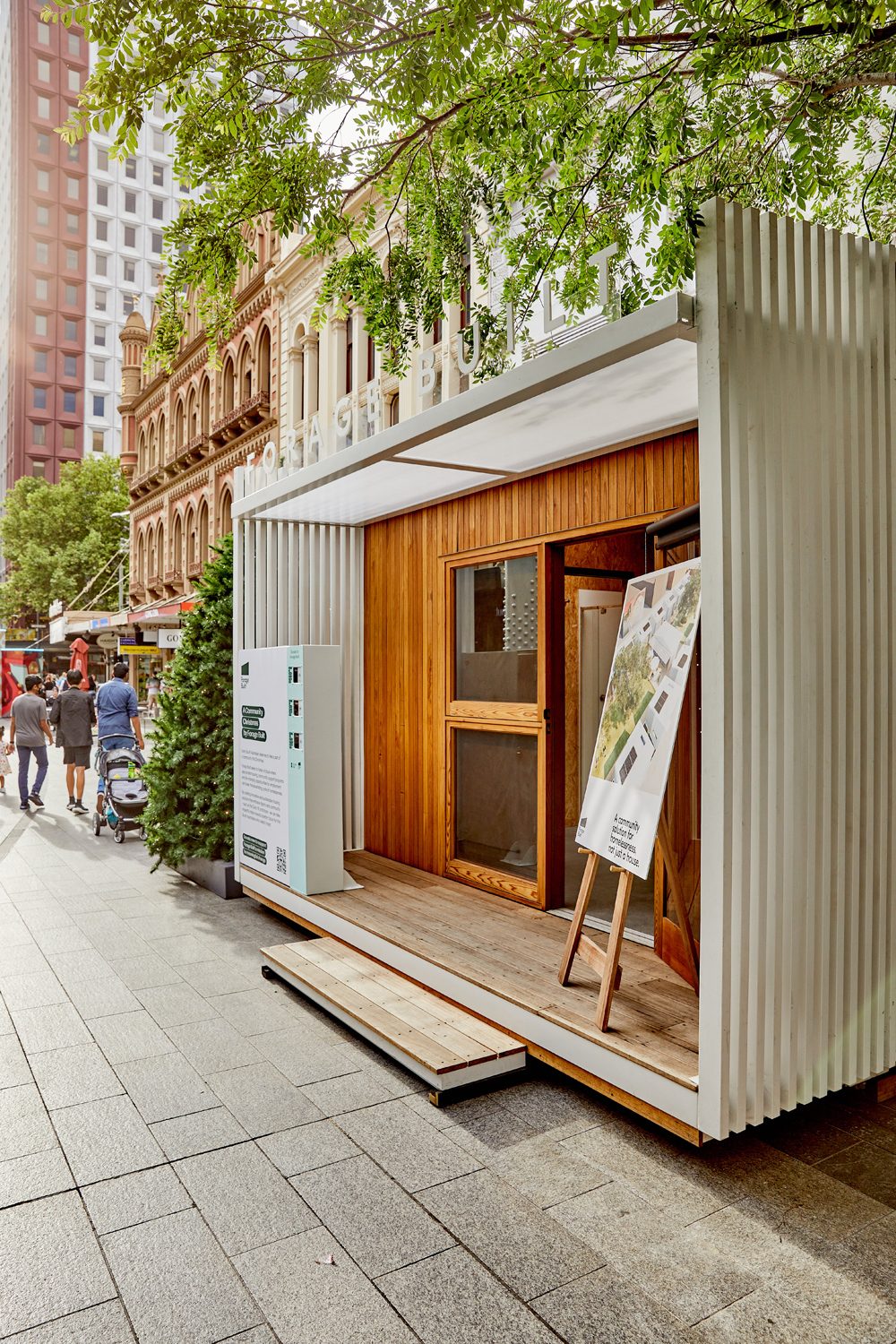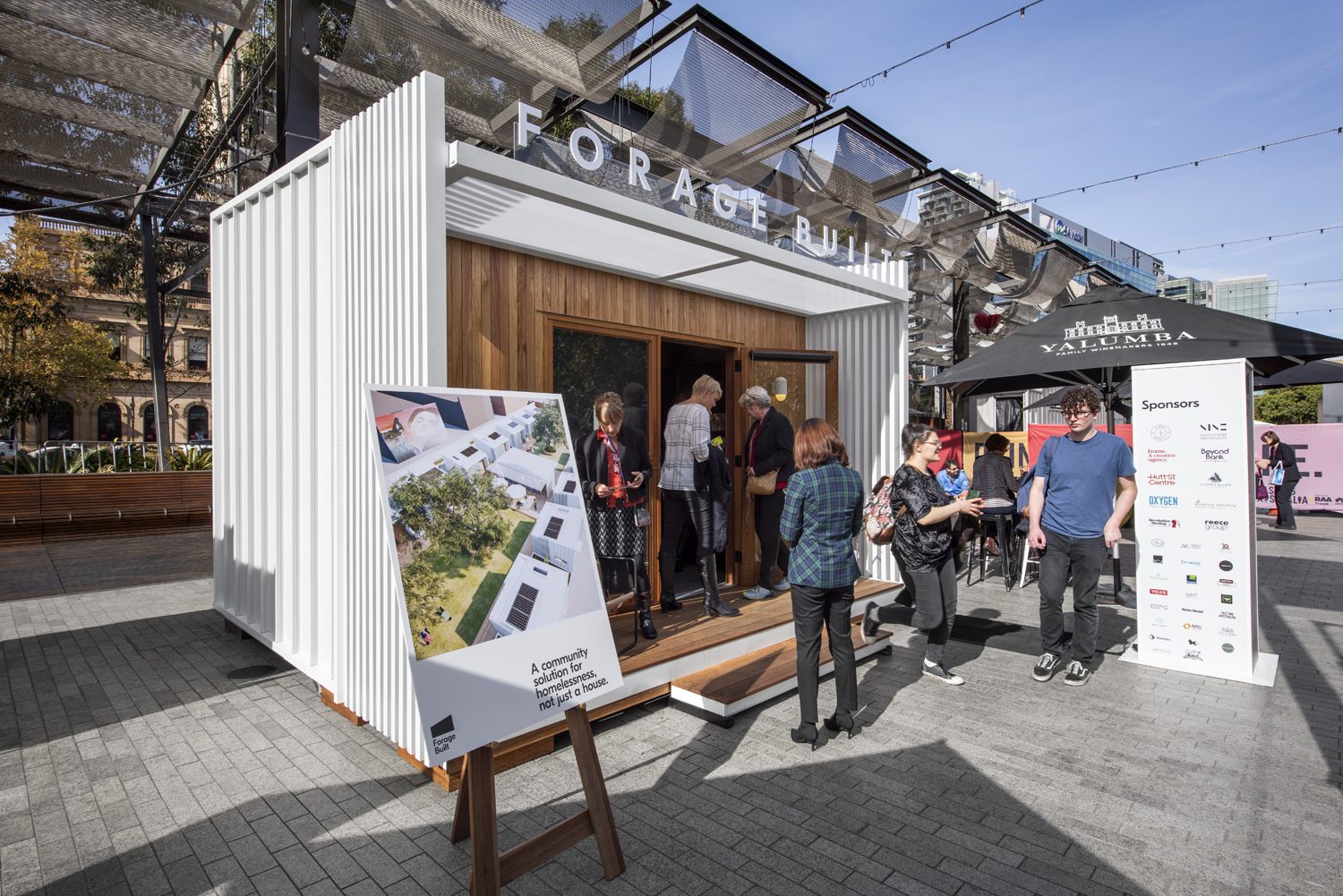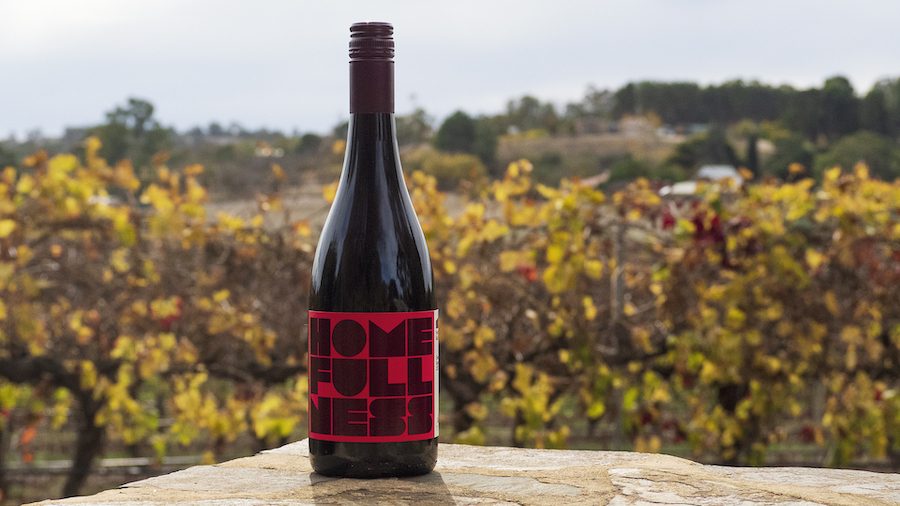 Brands such as Yalumba Wines joined the movement, releasing a special edition Homefullness Grenache with 50% from every pack sold donated to fund the build of one Calyx-16
Fundraising partnerships with local businesses such as Romeo's Supermarkets through instore campaigns have also raised around $19K towards the initiative.
The project has been supported by numerous organisations, including major sponsorship by S9 and endorsement by industry bodies and key entities such as the Australian Institute of Architecture, Adelaide City Council and Hutt Street Centre.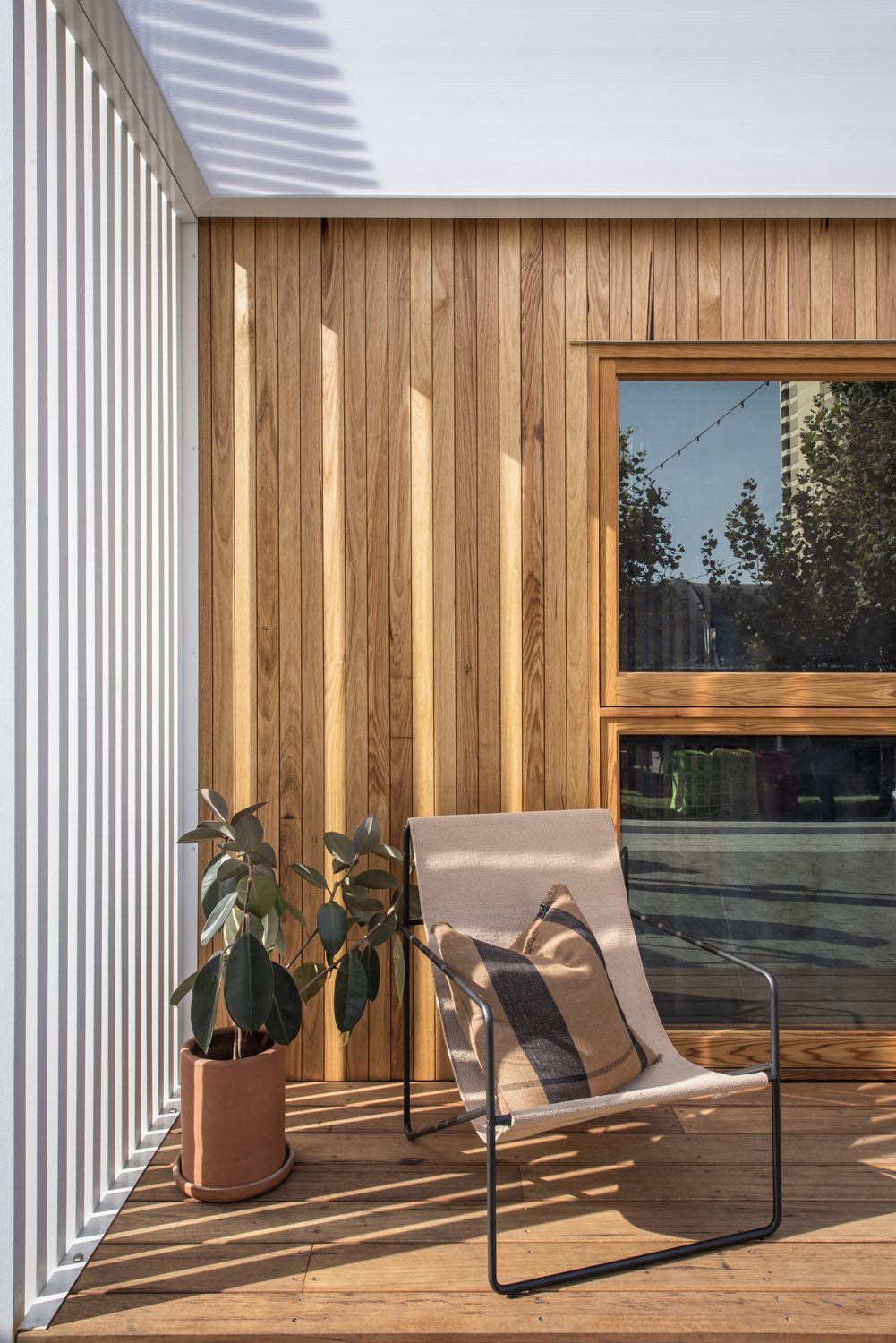 Sponsorships from financial institutions are currently being sought to inject capital into the project to pilot the first village